Jimmie Johnson takes another Dover NASCAR Sprint Cup win as Hendrick triumphs again
| | |
| --- | --- |
| By Diego Mejia | Monday, June 4th 2012, 02:08 GMT |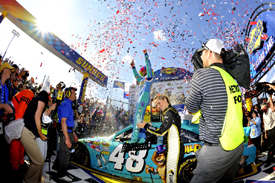 Jimmie Johnson claimed his seventh NASCAR Sprint Cup win at Dover by dominating Sunday's race at the 'Monster Mile' to continue Hendrick Motorsports' winning streak.
The five-time Cup champion led almost two thirds of the race distance on the way to his second win of the season and his third in the past four weeks, counting his All-Star win at Charlotte.
The Californian was challenged by polesitter Mark Martin early on but as the race entered the second half it was Johnson's team-mate Jeff Gordon who rose to be his main opponent, and actually took the lead on lap 211.
However as Gordon hit trouble with a loose wheel during a pitstop - forcing an unscheduled green-flag stop - Johnson was left without a major challenge in the decisive stages with Richard Childress Racing's Kevin Harvick following him to the chequered flag in a distant second.
"Obviously, I had an amazing [car] to drive today," said Johnson. "I think that #24 [Gordon] was the car to beat. He had two tenths on us but he had some troubles.
"I think the way we protected the win was pitroad. Last week was hard on us but this week these guys stepped up and did it every time I was on pitroad."
Harvick's second place, his best career result at Dover, came following a delayed stop after he missed his stall when he was running third.
Roush Fenway's Matt Kenseth finished third, closing to within a single point of the lead in the standings. His team-mate Greg Biffle did not enjoy a competitive afternoon but bounced back in the second half of the race to almost make it into the top 10.
Hendrick's Dale Earnhardt Jr carried his solid streak of finishing every race on the lead lap this season with fourth, while his team-mate Kasey Kahne was a top-10 finisher for a seventh consecutive week in ninth.
Michael Waltrip Racing's Clint Bowyer rounded out the top five in yet another good day for his outfit, his team-mate Martin Truex Jr taking seventh while polesitter Martin struggled to reproduce his early speed into the closing laps and came home 14th.
Gordon eventually finished 13th, as cautions did not fall his way after his wheel issue left him two laps down. Although he eventually got back in the lead of the race, a caution for debris once he had pitted for the last time allowed the leaders to complete their final stops under caution, preventing Gordon from getting back in contention.
"It's always more frustrating when you've got a car that can win; and you show it by going up there and taking the lead," said a disappointed Gordon, now 21st in the points. "We don't care about finishing top 15 or top 10 right now. That does nothing for us. We need wins."
Following a number of races with very few incidents, Sunday's event saw a multi-car pile-up as early as lap eight.
The incident was ignited by contact between reigning champion Tony Stewart (Stewart-Haas), who was forced to the garage for lengthy repairs, and BK Racing's Landon Cassill. It involved another 11 cars and caused the race to be red-flagged.
Four cars succumbed to engine failures, one of them being Joe Gibbs Racing's Kyle Busch, who was a top-five contender at the time. Roush Fenway's Carl Edwards also saw a strong run cut short by a deflating tyre, which put him in the wall as he was charging through the top 10.
Results - 400 laps:

Pos  Driver               Team/Car                         Time/Gap
 1.  Jimmie Johnson       Hendrick Chevrolet           3h15m23.000s
 2.  Kevin Harvick        Childress Chevrolet              + 2.550s
 3.  Matt Kenseth         Roush Fenway Ford                + 4.145s
 4.  Dale Earnhardt Jr    Hendrick Chevrolet               + 4.993s
 5.  Clint Bowyer         Waltrip Toyota                   + 5.607s
 6.  Aric Almirola        Petty Ford                       + 6.951s
 7.  Martin Truex Jr      Waltrip Toyota                   + 7.263s
 8.  Joey Logano          Gibbs Toyota                     + 7.811s
 9.  Kasey Kahne          Hendrick Chevrolet               + 7.957s
10.  Marcos Ambrose       Petty Ford                       + 9.077s
11.  Greg Biffle          Roush Fenway Ford                + 9.718s
12.  Brad Keselowski      Penske Dodge                    + 10.649s
13.  Jeff Gordon          Hendrick Chevrolet              + 11.197s
14.  Mark Martin          Waltrip Toyota                  + 11.325s
15.  Ryan Newman          Stewart-Haas Chevrolet          + 13.429s
16.  AJ Allmendinger      Penske Dodge                    + 14.103s
17.  Paul Menard          Childress Chevrolet             + 14.585s
18.  Denny Hamlin         Gibbs Toyota                    + 14.758s
19.  Jamie McMurray       Earnhardt Ganassi Chevrolet     + 17.911s
20.  Bobby Labonte        JTG Daugherty Toyota              + 1 lap
21.  David Ragan          Front Row Ford                   + 2 laps

Retirements:

     Jeff Burton          Childress Chevrolet              364 laps
     Travis Kvapil*       BK Toyota                        348 laps
     Kurt Busch           Phoenix Chevrolet                338 laps
     Tony Stewart*        Stewart-Haas Chevrolet           331 laps
     Carl Edwards*        Roush Fenway Ford                318 laps
     Regan Smith*         Furniture Row Chevrolet          306 laps
     Juan Pablo Montoya*  Earnhardt Ganassi Chevrolet      296 laps
     Kyle Busch           Gibbs Toyota                     202 laps
     Reed Sorenson        FAS Lane Ford                    124 laps
     David Reutimann      Baldwin Chevrolet                110 laps
     Dave Blaney          Baldwin Chevrolet                 65 laps
     David Stremme        Inception Toyota                  63 laps
     JJ Yeley             BK Toyota                         41 laps
     Stephen Leicht       Circle Sport Chevrolet            29 laps
     Mike Bliss           Humphrey Smith Toyota             23 laps
     Scott Riggs          R3 Chevrolet                      21 laps
     Landon Cassill       BK Toyota                          9 laps
     Joe Nemechek         NEMCO Toyota                       9 laps
     David Gilliland      Front Row Ford                     9 laps
     Casey Mears          Germain Ford                       8 laps
     Michael McDowell     Parsons Ford                       8 laps
     Scott Speed          Go Green Ford                      8 laps

* Running again at chequered flag