Andrea Larini resists Johnny Herbert's charge in epic Mugello Superstars race
| | |
| --- | --- |
| By Andrew van Leeuwen | Sunday, June 3rd 2012, 10:06 GMT |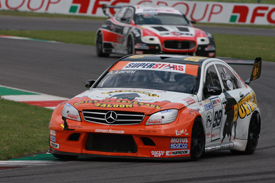 Andrea Larini survived a first-corner pile-up and a fierce charge from Johnny Herbert to win a classic first Superstars race at Mugello.
The crash started on the fast run down to San Donato, with Sandro Bettini side-swiping Larini. Bettini then bounced straight into his Dinamic BMW team-mate Thomas Biagi, who in turn took out debutant Camilo Zurcher (Romeo Ferraris Mercedes). The stranded cars then claimed Gianni Morbidelli (Audi Sport Italia) and Andrea Boffo (Ferlito Motors Jaguar), with all drivers retiring from the race on the spot.
Larini, however, escaped the carnage mostly unscathed. While his Romeo Ferraris Mercedes spent the remainder of the race dragging its exhaust system around in a shower of sparks, the car held together until the end.
But it was not just a slightly broken car that Larini had to fight. Herbert (Swiss Team Maserati) quickly recovered from a slow restart and found himself on Larini's tail with just a few laps remaining.
What followed was an epic battle for the win, which even included a very brief exchange of the lead on the final lap. Despite Herbert's best efforts, Larini was able to just hang on.
The battle for third place was spectacular as well. Tonio Liuzzi's CAAL Mercedes, Dinamic's Stefano Gabellini and Johan Kristoffersson's Audi spent the last 10 minutes of the race embroiled in door-to-door combat. While Liuzzi managed to hold on to third place for the majority of the race, he was swallowed by both Gabellini and Kristoffersson on the penultimate lap.
As a result, Gabellini was able to grab the final spot on the podium, while Kristoffersson took home a good points haul to solidify his spot on top of both the outright and rookie of the year points standings.
After a disappointing qualifying session Max Pigoli (Ferlito Motors Jaguar) found himself sixth thanks to the first-corner incident, while Francesco Sini (Solaris Chevrolet), Ananda Mikola (Roma Racing Mercedes), Paolo Meloni (W&D Racing BMW) and Mauro Cesari (Swiss Team Maserati) rounded out the top 10.
Max Mugelli (CAAL Racing Mercedes) was on for a top-10 spot, but wound up being a late retirement after he was punted off the track by Mikola on the penultimate lap of the race.
Results - 11 laps:

Pos  Driver                Team/Car             Time/Gap
 1.  Andrea Larini         Romeo Mercedes     28m40.453s
 2.  Johnny Herbert        Swiss Maserati       + 0.421s
 3.  Stefano Gabellini     Dinamic BMW          + 7.138s
 4.  Johan Kristoffersson  KMS Audi             + 7.932s
 5.  Tonio Liuzzi          CAAL Mercedes       + 12.268s
 6.  Max Pigoli            Ferlito Jaguar      + 14.227s
 7.  Francesco Sini        Solaris Chevrolet   + 14.588s
 8.  Ananda Mikola         Roma Mercedes       + 15.893s
 9.  Paolo Meloni          W&D BMW             + 16.484s
10.  Mauro Cesari          Swiss Maserati      + 16.927s
11.  Thomas Schoffler      MTM Audi            + 17.651s
12.  Francesco Ascani      Todi BMW            + 26.750s
13.  Walter Meloni         W&D BMW             + 28.469s
14.  Nico Caldarola        Roma Mercedes       + 42.660s
15.  Marco Fumagalli       Giudici BMW         + 49.996s

Retirements:

     Max Mugelli           CAAL Mercedes          9 laps
     Gianni Giudici        Giudici BMW            5 laps
     Leonardo Baccarelli   Todi BMW                1 lap
     Gianni Morbidelli     Audi Italia            0 laps
     Sandro Bettini        Dinamic BMW            0 laps
     Camilo Zurcher        Romeo Mercedes         0 laps
     Thomas Biagi          Dinamic BMW            0 laps
     Andrea Boffo          Ferlito Jaguar         0 laps