Ferrari president Luca di Montezemolo plays down 'inexperienced' Sergio Perez's chances of taking Felipe Massa's seat
| | |
| --- | --- |
| By Pablo Elizalde | Friday, June 1st 2012, 16:19 GMT |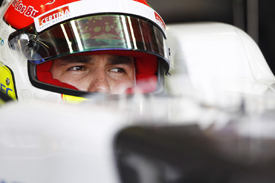 Ferrari president Luca di Montezemolo has poured cold water on speculation linking Sergio Perez with the team, saying the Mexican is too inexperienced for the Italian squad.
Perez, who is part of Ferrari's young-driver programme, has been mentioned as a contender for Felipe Massa's seat after the Brazilian endured a dismal start to the season.
Sauber driver Perez pushed Massa's team-mate Fernando Alonso for victory in the Malaysian Grand Prix earlier this year.
But speaking at the FT luxury conference on Friday, di Montezemolo said Perez still needs more experience before he is a candidate for a drive at Ferrari.
"Perez is a good driver but to drive a Ferrari you need more experience," di Montezemolo was quoted as saying by Reuters.
"I think he is one of the potential best young drivers for the future but before putting a young driver in a Ferrari I need more experience and more results."
The Ferrari boss also denied that a decision on Massa's future had already being made.
"We never take a decision before the second half of the season." he added.
Di Montezemolo believes Massa's season will continue to improve after his best race of the year in Monaco last weekend.
"I'm sure that, because we are improving our car, the car will be less difficult to drive," said di Montezemolo. "And I expect from Felipe better performances as I have already seen in Monte Carlo, because in Monte Carlo he was among the five quickest drivers on the track and in the qualifiers.
"So I hope he will continue like this. At the moment we are not taking any decision yet for the future, because it is too early."