Marc Gene steps in for Timo Bernhard in Audi Le Mans line-up
| | |
| --- | --- |
| By Simon Strang | Friday, June 1st 2012, 09:55 GMT |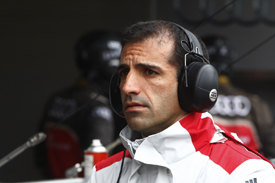 Marc Gene will replace Timo Bernhard in Audi's Le Mans 24 Hours line-up after the team's 2010 winner failed to regain his fitness in time following a testing accident at Sebring in March.
Gene, who also won Le Mans alongside Alex Wurz and David Brabham driving for Audi's former turbodiesel rival Peugeot in 2009, was drafted into Audi's squad when it became clear Bernard would need a long recovery period for his vertebrae injury.
The Spaniard, who joins Romain Dumas and Loic Duval in the #3 Audi R18 ultra as part of the German manufacturer's four-pronged attack at La Sarthe this year, won on his debut for the team at Spa last month.
Gene will now take part in this weekend's test at Le Mans.
"All of us had very much been wishing for Timo to be fit again for the test day and the Le Mans 24 Hours," said Audi's head of motorsport, Dr Wolfgang Ullrich. "Unfortunately, the time was too short for this. That's a real shame for Timo and for us too.
"Despite this responsible and probably not easy decision there is generally positive news as well, as we all know that Timo will completely recover again. Naturally, he will continue to enjoy our full support.
"By signing Marc Gene in April as a reserve driver we've got a tried and tested solution for the current situation. Marc will now be nominated as a racer driver in the #3 car."
Bernard added that he was pleased with his recovery and that he would only have wanted to race in this year's Le Mans if he had been able to regain full fitness.
"I'm very pleased with the steps I've managed to make during this time," said Bernhard. "We've created a tight system of medical checks, so my progress has constantly been monitored.
"Unfortunately, there's not enough time before the Le Mans 24 Hours to become 100 per cent fit again. Le Mans is a world-class race that doesn't allow any compromises. I only want to compete at this event in perfect physical condition. That's why on the advice of my doctors and in close coordination with Audi I decided not to run at Le Mans this year."