Hamilton hopes he can fight for win if he makes a good start at the Monaco GP
| | |
| --- | --- |
| By Kevin Turner | Saturday, May 26th 2012, 15:14 GMT |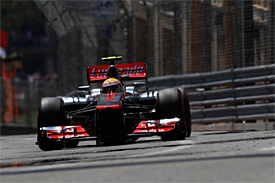 Lewis Hamilton believes he can fight for victory at Monaco after qualifying on row two in one of "the toughest qualifying sessions" of his career.
The McLaren driver was fourth quickest in Q3 and will start third thanks to Michael Schumacher's penalty.
"It was one of the toughest qualifying sessions I've experienced for some time, but it was so much fun," said Hamilton. "We got everything out of every set of tyres. We got the best we could out of the car we had.
"Third is a good place to start from. It's going to be tough, but anything can happen."
The Briton, who is the only driver in the last eight years to have won Monaco from somewhere other than pole, believes he can be in the mix tomorrow.
"The tyres and strategy can play a big role here," he added. "If we get a good start then we're in fighting position for the win. I've got a good feeling for the weekend, but I've got two great drivers in front of me who will make it as hard as possible.
"I've tried overtaking here and I've proved it's almost impossible! I hope we don't have to do too much overtaking tomorrow. I will try and keep it clean, keep it on the track, and make sure we score as many points as possible."
Like team-mate Jenson Button, Hamilton believes the team still has work to do to understand the Pirelli tyres.
"I think it was the low speed corners we weren't so quick," he said. "We made a lot of changes coming into qualifying. It wasn't bad, but we're struggling for low-speed grip, for whatever reason.
"In Barcelona we were very good at low speed in the last part of the circuit, but I think it's the tyres again. Even though it's warm, we're struggling to get them to switch on and really give us the grip."