Teams say F1 title battle is now about the 'long game'
| | |
| --- | --- |
| By Jonathan Noble | Friday, May 25th 2012, 08:22 GMT |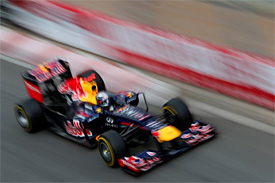 Formula 1 drivers and teams must change their mindset to think of the long game this season if they want to win the championship, because of the huge fluctuations in form being thrown up at individual races this season.
That is the view of leading team principals, who think it vital that those involved in the fight for title glory do not get frustrated by some of the shock results being delivered this year.
Mercedes team principal Ross Brawn said: "We have got to see how the averages work out over a longer period. This season has turned things around a bit, and probably what it is teaching you is that you need to look over a longer period, more races, to draw a judgement.
"[Pastor] Maldonado did a fantastic job in the last race, and [Sergio] Perez did a great job in Malaysia, and it is great for the sport that those guys are allowed to show their talents at the front, but I think you will see the averages work out over the year.
"You see Fernando [Alonso] who is at the front of the championship, and he has not had a great car this year, but because of what he is, he has managed to get there. Nico [Rosberg] in last three races has scored almost as many points as anyone - so you have to look at it over more races."
Red Bull Racing boss Christian Horner added: "It is very, very close, and we have seen a real random element with the unprecedented situation of five winners and five different constructors' - and the biggest contributing factor to that is understanding the current tyres.
"It is putting the emphasis on that at those races you can't win, you've got to be scoring points. The weekends that you are not able to take a victory, you need to be consistently scoring and the races you have the opportunity to win you need to take that opportunity.
"You have a lot of very good drivers out there and it is no coincidence that the top drivers are at the top end of the championship. Over a sample of 20 races, ultimately there will become a pattern of some sort."
Brawn too believes that as the bigger teams get a better understanding of the tyres, then there will not be such big fluctuations in form.
"I think it will move from the randomness that we have got now to it being refined," he said. "I think we will see later in the year that a pattern will emerge and those that understand what is going on will be on top of it.
"But it will still keep throwing up odd results I am sure. A trend will evolve which will be down to the teams whose engineers are getting a better understanding and increasing the average hit rate."