Felipe Massa aims for fresh start to the season at Monaco Grand Prix
| | |
| --- | --- |
| By Jonathan Noble and Edd Straw | Wednesday, May 23rd 2012, 17:34 GMT |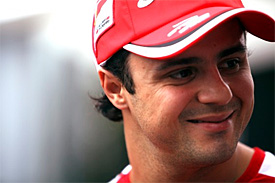 Felipe Massa remains hopeful the Monaco Grand Prix can mark the start of a new chapter in his season, as he bids to turn around his disappointing campaign.
The Brazilian is under pressure to lift his performances - with Ferrari conceding that it needs Massa to lift his game if he is to deliver the points it needs for Constructors' Championship success.
Well aware himself that things need to improve, Massa said on Wednesday that he was confident that things could be different from this weekend.
"Definitely, this is my second home GP, I live here and it is a very special race so I hope this can be the beginning of a different championship," explained the Brazilian.
"It is not an easy time but if you look back at my career I have had many difficult times in my career and my life, so this is another one.
"Maybe it is the most difficult one, so we need to get out of the way of that to go back in the right direction as it was. It is always better to be in the good times than the bad times but that is life, so that is what we are looking for."
Massa was sure, however, that he was not cracking under pressure from team-mate Fernando Alonso, who is currently joint leader of the world championship.
"I don't think Fernando is the problem," he explained. "You always have great team-mates and difficult times with the team-mate, so they are strong guys together. I don't think that is the problem."