Williams tightens safety procedures after Spanish Grand Prix fire
| | |
| --- | --- |
| By Jonathan Noble | Wednesday, May 23rd 2012, 17:21 GMT |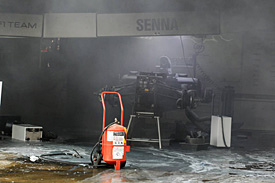 Williams has revised its safety procedures for handling fuel in the wake of its garage fire at the Spanish Grand Prix.
Although the Grove-based outfit still does not know for definite why fuel ignited in its garage on Sunday evening, the fact it suspects an issue when fuel was being moved is enough for it to opt to make modifications to the way it works.
"The procedures we have changed, and we've notified the other teams as well," said engineering chief Mark Gillan ahead of the Monaco Grand Prix. "There is a long list of procedures that we have issued to the other teams and the FIA to ensure that something like that doesn't happen again."
Gillan explained that Williams had extensively briefed rival teams on its findings from an ongoing investigation to the fire - which it hoped to conclude soon.
"On the Friday after [the Spanish GP] I attended a TWG meeting, and as I say things are still coming up," he said.
"I spoke to all the technical directors and the FIA to explain what our understanding was, and the chain of events that led to the cause of the fire.
"It happened in the fuel handling area, so it was a fuel handling-related fire, but the exact cause we are still investigating – and we are liaising with the FIA to ensure that procedures, not just within the garage, but within the circuit, are improved to make sure that something like that doesn't happen again."
After losing 90 per cent of its garage infrastructure in the fire, Gillan said that Williams had managed to get itself fully operational for the Monaco GP thanks to a big effort from his team's staff as well as the loan of equipment from rival teams.
"We've been able to able to replace pretty much everything and certainly we are operational. There are a few things we don't have, such as an abundance of radios, but it doesn't stop us operationally and we have borrowed equipment from other teams as well.
"Not only did they help with the fire but they have come good with their promises there too. We are fully operational; if you go to the garage, you wouldn't know we had a fire. It is an unbelievable effort from everyone concerned."
The Williams team member who was most badly injured in the fire remains in hospital in England, and Gillan reckoned he would not be released for another two weeks.
"He is recovering well and obviously there are a lot of good wishes from across the pitlane," said Gillan. "Things are going well there, he should be out in about 10 days."