Pickett HPD crew Klaus Graf and Lucas Luhr dominate Laguna Seca American Le Mans Series race
| | |
| --- | --- |
| | Sunday, May 13th 2012, 02:53 GMT |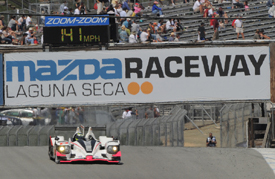 Klaus Graf and Lucas Luhr's Pickett Racing HPD utterly dominated the American Le Mans Series' six-hour race at Laguna Seca on Saturday.
The polesitting car was very briefly headed when the rival Dyson Lola-Mazda got an over-enthusiastic start, but Chris Dyson realised his error and immediately let Graf back past. After that, the Pickett crew was unstoppable, lapping several seconds per lap faster than its rivals for most of the day.
Dyson was not only unable to hang on to the HPD, but struggled to fend off the LMP2 cars, even before damage from debris saw Dyson and team-mates Guy Smith and Johnny Mowlem dropping 20 laps down.
Second overall went to the Level 5 LMP2 class HPD of Scott Tucker, Luis Diaz and Franck Montagny, which won its class after a battle with the team's second car and Conquest's Morgan-Nissan. The #55 Level 5 machine was ultimately eliminated in a crash with a GTC car, while Conquest flew from the back of the grid before being delayed by gearbox problems.
Oliver Gavin and Tommy Milner recovered from some pit delays to win the ferociously close-fought GT class for Corvette, with their team-mates Jan Magnussen and Antonio Garcia battling hard to make it a one-two for the yellow cars, just ahead of the BMWs, Extreme Speed's #01 Ferrari, the #45 Flying Lizard Porsche and the Falken Porsche. A scant 10 seconds covered the top seven in class after six hours of racing. BMW's Bill Auberlen tried his utmost to get between the Corvettes in the final moments, but had to settle for third. The polesitting Aston Martin was only eighth after pit problems and a penalty for causing a collision.
LMPC also saw a very close late battle, with a last-gasp pass by Colin Braun on RSR's Bruno Junqueira giving the CORE Autosport driver victory in the car he shared with team boss Jon Bennett. The second CORE car - in which Tom Kimber-Smith starred - was right behind, while Merchant Services' #8 car had been in the thick of what was a four-way fight until a tangle with Kimber-Smith left Kyle Marcelli in the Turn 3 gravel just minutes from the end.
TRG's #66 car took victory in GTC, the Jeroen Bleekemolen/Emilio di Guida/Bret Curtis crew finishing 12s clear of the GMG Porsche.
Results - 242 laps:

Pos  Cl   Drivers                        Team/Car                    Time/Gap
 1.  P1   Luhr/Graf                      Pickett HPD             6h00m07.664s
 2.  P2   Tucker/Diaz/Montagny           Level 5 HPD                 + 3 laps
 3.  PC   Bennett/Braun                  CORE FLM                    + 6 laps
 4.  PC   Junqueira/Drissi/Gonzalez      RSR FLM                     + 6 laps
 5.  PC   Popow/Kimber-Smith             CORE FLM                    + 6 laps
 6.  PC   Guasch/Gidley/Hamilton         Pickett FLM                 + 6 laps
 7.  PC   Marcelli/Downs/Stirling        Merchant FLM                + 8 laps
 8.  PC   Leitzinger/Dobson              PR1 Mathiasen FLM          + 10 laps
 9.  GT   Gavin/Milner                   Corvette                   + 10 laps
10.  GT   Magnussen/Garcia               Corvette                   + 10 laps
11.  GT   Muller/Auberlen                RLL BMW                    + 10 laps
12.  GT   Hand/Muller                    RLL BMW                    + 10 laps
13.  GT   Sharp/van Overbeek             Extreme Speed Ferrari      + 10 laps
14.  GT   Bergmeister/Long/Lietz         Flying Lizard Porsche      + 10 laps
15.  GT   Henzler/Sellers                Falken Porsche             + 10 laps
16.  PC   Richard/Ende/Lewis             Dempsey FLM                + 11 laps
17.  GT   Fernandez/Turner/Mucke         Aston Martin               + 12 laps
18.  GT   Neiman/Holzer                  Flying Lizard Porsche      + 12 laps
19.  GT   Miller/Maassen                 Miller Porsche             + 13 laps
20.  P2   Plowman/Hansson/Pizzonia       Conquest Morgan-Nissan     + 15 laps
21.  PC   Nicolosi/Vera                  Performance Tech FLM       + 17 laps
22.  GT   Brown/Cosmo                    Extreme Speed Ferrari      + 18 laps
23.  P1   Dyson/Smith/Mowlem             Dyson Lola-Mazda           + 20 laps
24.  GTC  Di Guida/Bleekemolen/Curtis    TRG Porsche                + 23 laps
25.  GTC  Sofronas/Welch/Villeneuve      GMG Porsche                + 23 laps
26.  GTC  Faieta/Avenatti/Wagner         Competition Porsche        + 23 laps
27.  GTC  MacNeil/Lazzaro                Alex Job Porsche           + 26 laps
28.  GTC  LeSaffre/Faulkner/Bleekemolen  Green Hornet Porsche       + 31 laps
29.  P2   Tucker/Bouchut/Montagny        Level 5 HPD                + 35 laps
30.  P2   Dempsey/Foster/Cocker          Dempsey Lola-Judd          + 40 laps
31.  P2   Prendeville/Mitchell/da Costa  Libre Radical              + 57 laps
32.  GTC  Hedlund/Krohn/Tandy            TRG Porsche                + 64 laps

Retirements:

     GTC  Cumming/Marsh/Ragginger        JDX Porsche                 119 laps
     PC   Burgess/Ducote/Downs           Merchant FLM                100 laps
     GT   Sweedler/Bell                  Alex Job Lotus               67 laps