Dreyer & Reinbold Racing forms 'strategic partnership' with Panther Racing, gets Chevrolet engine deal
| | |
| --- | --- |
| By Jamie O'Leary | Tuesday, May 8th 2012, 08:15 GMT |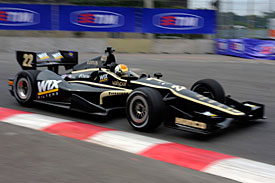 Dreyer & Reinbold Racing will use Chevrolet engines for the rest of the year after taking over Panther Racing's second engine lease.

The two teams have agreed a 'strategic partnership' for the remainder of 2011 meaning that DRR, which split with initial engine supplier Lotus late last month, will effectively position Oriol Servia as a team-mate to JR Hildebrand from the Indianapolis 500 onwards.

"We wanted to operate as a two-car team for some time, but the right opportunity had never arisen to allow us to accomplish then," said Panther CEO John Barnes.

"But as soon as we had the chance to work with Dreyer & Reinbold Racing and Oriol Servia - a guy I consider one of the best all-round drivers in IndyCar - this was a no-brainer for us."

The teams shared a technical partnership at the tail end of 2011, and will now share a premises with DRR's IndyCar project being run within Panther's Indianapolis headquarters.

"This is the best of both worlds," Servia added. "I'm already with a great team, a great crew and great owners at DRR, and affiliating with Panther is perfect because I've sat down with John Barnes many, many times to try and put a programme together."