Arthur Pic quickest in both Formula Renault 3.5 Friday practice sessions at Aragon
| | |
| --- | --- |
| By Glenn Freeman | Friday, May 4th 2012, 14:32 GMT |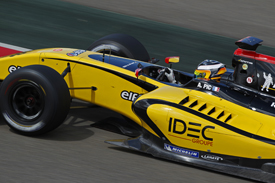 Arthur Pic led the way in Formula Renault 3.5 practice at Aragon on Friday, topping both sessions at the Spanish track.
The DAMS driver, who went quickest with a 1m40.744s lap in the morning session, came out on top during a late flurry of activity in the afternoon to better that effort by 0.6 seconds.
The second session did not go smoothly for the teams as they tried to gather data ahead of Saturday morning's first qualifying session. A short hailstorm at around the halfway mark led to everybody returning to the pits, and just as more cars were heading back out on track with around 20 minutes remaining, Lucas Foresti brought out the red flag.
Once everyone got back up to speed, it was only in the final four minutes that anyone started to improve on the times they had set before the weather had taken a turn for the worse. Richie Stanaway was heading the times for Lotus at that point, having improved after running second to Pic in the morning session.
While most drivers improved as they put together a sequence of laps for the first time since the early part of the session, Stanaway's time appeared set to survive as the chequered flag came out. But it was then narrowly beaten by Draco's Nico Muller, before Pic made a significant jump to leave his closest pursuers 0.3s adrift.
Robin Frijns (Fortec) managed to sneak between Muller and Stanaway with his final effort, just ahead of team-mate Carlos Huertas, who briefly held the second fastest time during the flurry of changes at the top.
GP2 convert Sam Bird made steady progress over his final short run to end up sixth for ISR, with Walter Grubmuller (P1) and Kevin Korjus (Tech 1) next up.
Practice one:

Pos  Driver              Team        Time       Gap
 1.  Arthur Pic          DAMS        1m40.744s
 2.  Richie Stanaway     Lotus       1m40.875s  + 0.131s
 3.  Walter Grubmuller   P1          1m40.912s  + 0.168s
 4.  Robin Frijns        Fortec      1m41.031s  + 0.287s
 5.  Sam Bird            ISR         1m41.072s  + 0.328s
 6.  Carlos Huertas      Fortec      1m41.157s  + 0.413s
 7.  Nico Muller         Draco       1m41.177s  + 0.433s
 8.  Jules Bianchi       Tech 1      1m41.256s  + 0.512s
 9.  Marco Sorensen      Lotus       1m41.263s  + 0.519s
10.  Daniil Move         P1          1m41.268s  + 0.524s
11.  Will Stevens        Carlin      1m41.322s  + 0.578s
12.  Lewis Williamson    Arden       1m41.484s  + 0.740s
13.  Kevin Korjus        Tech 1      1m41.601s  + 0.857s
14.  Kevin Magnussen     Carlin      1m41.608s  + 0.864s
15.  Lucas Foresti       DAMS        1m41.616s  + 0.872s
16.  Nick Yelloly        Comtec      1m41.638s  + 0.894s
17.  Andre Negrao        Draco       1m41.645s  + 0.901s
18.  Alexander Rossi     Arden       1m41.806s  + 1.062s
19.  Vittorio Ghirelli   Comtec      1m41.894s  + 1.150s
20.  Mikhail Aleshin     RFR         1m41.979s  + 1.235s
21.  Jake Rosenzweig     ISR         1m42.124s  + 1.380s
22.  Anton Nebylitskiy   RFR         1m42.238s  + 1.494s
23.  Zoel Amberg         Pons        1m42.239s  + 1.495s
24.  Nikolay Martsenko   BVM Target  1m42.324s  + 1.580s
25.  Giovanni Venturini  BVM Target  1m42.657s  + 1.913s
26.  Yann Cunha          Pons        1m42.671s  + 1.927s

Practice two:

Pos  Driver              Team        Time       Gap
 1.  Arthur Pic          DAMS        1m40.136s
 2.  Nico Muller         Draco       1m40.498s  + 0.362s
 3.  Robin Frijns        Fortec      1m40.509s  + 0.373s
 4.  Richie Stanaway     Lotus       1m40.522s  + 0.386s
 5.  Carlos Huertas      Fortec      1m40.582s  + 0.446s
 6.  Sam Bird            ISR         1m40.636s  + 0.500s
 7.  Walter Grubmuller   P1          1m40.745s  + 0.609s
 8.  Kevin Korjus        Tech 1      1m40.748s  + 0.612s
 9.  Nick Yelloly        Comtec      1m40.877s  + 0.741s
10.  Daniil Move         P1          1m41.062s  + 0.926s
11.  Zoel Amberg         Pons        1m41.086s  + 0.950s
12.  Anton Nebylitskiy   RFR         1m41.128s  + 0.992s
13.  Alexander Rossi     Arden       1m41.156s  + 1.020s
14.  Jules Bianchi       Tech 1      1m41.183s  + 1.047s
15.  Will Stevens        Carlin      1m41.247s  + 1.111s
16.  Kevin Magnussen     Carlin      1m41.258s  + 1.122s
17.  Lewis Williamson    Arden       1m41.424s  + 1.288s
18.  Giovanni Venturini  BVM Target  1m41.612s  + 1.476s
19.  Mikhail Aleshin     RFR         1m41.629s  + 1.493s
20.  Nikolay Martsenko   BVM Target  1m41.796s  + 1.660s
21.  Lucas Foresti       DAMS        1m42.099s  + 1.963s
22.  Jake Rosenzweig     ISR         1m42.192s  + 2.056s
23.  Andre Negrao        Draco       1m42.357s  + 2.221s
24.  Vittorio Ghirelli   Comtec      1m42.618s  + 2.482s
25.  Marco Sorensen      Lotus       1m42.852s  + 2.716s
26.  Yann Cunha          Pons        1m44.130s  + 3.994s