Citroen baffled by FIA decision to exclude Mikko Hirvonen for the second time
| | |
| --- | --- |
| By David Evans | Monday, April 30th 2012, 13:01 GMT |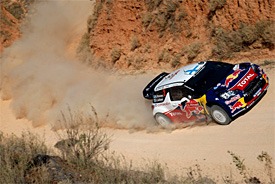 The Citroen team has admitted it finds the decision to exclude Mikko Hirvonen's car from the Rally of Portugal results for a second time 'strange'.
Hirvonen's winning DS3 WRC was excluded for a problem with the car's clutch, but there was a secondary issue regarding the turbocharger, which the Rally of Portugal stewards confirmed was also an excludable offence last week.
The size of the turbine wheel in the turbo was found to be outside the permitted tolerances.
"This is a strange decision," said Laurent Fregosi, Citroen's deputy technical manager.
"We know and they [the FIA] know the turbine wheel increases during its life because of the temperatures. We cannot chose anything else because we order the parts from the [turbo] supplier [Garrett] chosen by the FIA.
"We receive the parts, which are correct when they are new, but then they become outside the tolerances of the FIA homologation when they are running."
Fregosi said these concerns over the turbocharger had been raised at a technical working group earlier last week, adding: "Everybody agreed there is a problem with this regulation and they will modify the tolerance - they make more tolerances - and when the regulation is revised our turbo would have been legal."
It is believed that, under the new regulation, turbochargers will only be used once - instead of the two or three times for the current units.
"When we are working with the regulation to make the costs less in the sport," said Fregosi, "it's a pity that we now have to use the turbo just once – this is not in the philosophy of the regulation. Our feeling is that this [decision] is not very fair. This has nothing to do with the performance of the car."
Citroen will not appeal the decision.