Lotus sure it can stay with the Formula 1 frontrunners after Bahrain Grand Prix podium
| | |
| --- | --- |
| By Jonathan Noble | Tuesday, April 24th 2012, 14:07 GMT |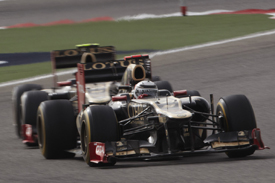 Lotus is confident it has the drivers and car to be quick at every track from now on, after finally delivering its first podium finish of the season in Bahrain.
Despite having shown promising speed in the first few races of the campaign it had failed to finish in the top three until last weekend, when Kimi Raikkonen and Romain Grosjean both secured podium spots.
Trackside operations director Alan Permane reckons that the result is proof that Lotus has now got its act together and is ready to show that its E20 can repeat that form at other races.
"There is no doubt we have shown promise all year and we have been saying it will come, it will come, and it has," he told AUTOSPORT.
"We have had a decent straightforward race, and not screwed up the strategy.
"We've demonstrated the car is quick and I think we can be quick just about anywhere. We know our weakness, which is low speed, traction and stuff like that, but we are very happy with the car in higher and medium speeds."
Team principal Eric Boullier revealed that the outfit was getting slightly frustrated before Bahrain at the way it had failed to capitalise on its speed.
"Sometimes things don't work, and this is why we built up this frustration in the first three races," he said. "This weekend it went fine and we had no glitches. There was even a little bit of a gamble on [tyre] strategy but it worked."
When asked why he believed the team had finally got everything together in Bahrain, he said: "I don't know for definite. There is the weather, and the temperature is better for us and better for our car.
"I think at the first three races we were trying to combine everything and make the whole machine work together, which is never easy when you start the season, and never easy when you change both drivers.
"But everybody now starts to know each other, and work better. And also the drivers: they were not in F1 for the last two years so they needed to be up to speed as well, and now I think they are."