McLaren says understanding tyres is key to return to winning ways
| | |
| --- | --- |
| By Jonathan Noble | Monday, April 23rd 2012, 10:31 GMT |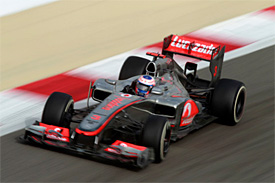 McLaren believes the key to getting itself back to the front in Formula 1 is getting on top of the 2012 tyres.
After a disappointing Bahrain Grand Prix, where Lewis Hamilton and Jenson Button struggled to match the pace of Red Bull and Lotus, team boss Martin Whitmarsh thinks that understanding the characteristics of this year's rubber is now vital.
When asked by AUTOSPORT if the most important factor over the course of the season will be exploiting the tyres rather than delivering improvements to its car, Whitmarsh said: "In my view yes, because our downforce hasn't evaporated and disappeared.
"The inherent performance of the car is there, you could see it in qualifying. So then when you stand back, it has to be how we exploit those tyres. And here we were killing the rear tyres, and that made it very difficult for the drivers.
"Our drivers really didn't stand a chance. I think with something like that, it's pressures, temperatures; it's how we are using those tyres. It's a bit of a concern. We have to be calm, analytical and fix it."
McLaren had come into the season buoyed by a promising pre-season testing programme, and secured front row lock outs at both the Australian and Malaysian Grand Prix. But it has delivered just one win in the first four races.
Whitmarsh said he was surprised about how McLaren's form had faded a little, but he thinks the season is going to be very close.
"I think that this is a much more interesting championship right now than I would like it to be," he explained. "We've never discounted the Red Bulls, but you've had four different winners, four different constructors in the first four races.
"And not only Red Bull: but you have got to say congratulations to Lotus, they were bloody quick here.
"I think we have got to focus on what we did wrong, and clearly we did something wrong. You look at our pace here by comparison to long runs on Friday and we were a second slower than we were then.
"One second slower is 30 or 40 points of downforce and we didn't lose that, so it's really these tyres.
"They are very, very challenging and if you get in the sweet spot, then you are in great shape, and if you are out of it then you are in for a pretty tough time. We gave both of our drivers a very tough time here."