Sirotkin says start board confusion to blame for delayed getaway in race one
| | |
| --- | --- |
| By Peter Mills | Saturday, April 14th 2012, 16:07 GMT |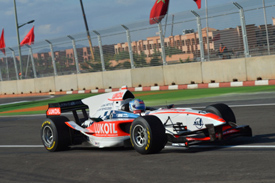 Russian racer Sergey Sirotkin says a mix up with a five-second board was the cause of his poor getaway from pole position in Auto GP's opening race in Marrakech.
The promising Euronova Racing had a delayed reaction at the start, dropping from first to ninth as a result.
"That was a race of so many problems," Sirotkin said. "I saw there was a marshal carrying a five-second board to the side of the grid, and I was waiting for him to raise it.
"I wasn't looking at the lights coming on, so suddenly there were all of these cars starting around me. Afterwards they told me there was another five-second board shown from higher-up, but from my place in pole position it was not possible to see it.
"I just didn't see the start."
Sirotkin produced a strong drive to recover from to finish sixth, but the reigning Formula Abarth Europe champion felt that, even allowing for the slow getaway, a stronger result had been possible.
"I also had a problem with a pitstop," continued Sirotkin. "We made a decision before the race that if I saw a crash take place in front of me, then I would come in for my mandatory tyre change.
"I saw [Campos Racing's Facu] Regalia crash and then I went to the box. At the last moment they said on the radio to stay on the track. I had to brake and change my line away from the pitlane, losing four or five positions.
"I don't think it cost a win but it just race made the race complicated. We have to look towards race two tomorrow where I start from third."
The second Auto GP World Series race at round three in Marrakech takes place at 13.30, local time, on Sunday. Sirotkin's Euronova Racing team-mate Antonio Spavone will start from pole position on the reversed-grid.