Sebastian Vettel has no regrets over sticking with old exhaust after qualifying 11th for Chinese GP
| | |
| --- | --- |
| By Pablo Elizalde | Saturday, April 14th 2012, 07:49 GMT |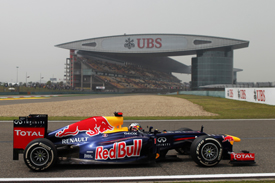 Sebastian Vettel said he has no regrets about his decision to stick with Red Bull's old exhaust design, despite going out in Q2 for the first time in 43 races.
The world champion decided to use the old exhaust layout for the weekend, while his team-mate Mark Webber opted for the latest?-specification unit.
Vettel failed to make it into the top 10 in qualifying for the first time since the 2009 Brazilian Grand Prix.
The German said he was happy with how he had performed during qualifying, but he conceded that his times were simply not quick enough.
"It's always easy to say this and that now, but I was happy with the car yesterday and that's why I decided to stay as we were," said Vettel.
"I was happy with the laps I had in qualifying. There were no mistakes, but they weren't quick enough. It's as easy as that.
"Yesterday I was happy with the car. We decided to stick with the current settings and I don't want to blame it on the car. Three times I did exactly the same lap, and three times it wasn't quick enough to make it into Q3."
Vettel admitted he was disappointed to be starting from so far back, but he reckons he still has a chance to put on a good performance in? the race.
"Obviously I'm not happy," he added. "As I said, I was pretty happy with the laps I had in Q2, but they weren't quick enough. We have to start the race from P11 and see what we can do tomorrow. Surely it makes it a bit harder, but not impossible to do a good race.
"I was pretty happy with the car today, but it was pretty close. Unfortunately we weren't able to take the final step. There's a lot of work to do, but there's a very long race tomorrow, which gives us lot of chances."
Team boss Christian Horner downplayed the difference between one exhaust layout and the other, saying the gap between Vettel and Webber was not necessarily down to it.
"Not necessarily. The characteristics are slightly different but it's hopefully suiting both drivers' different driving styles," Horner told Sky TV. "If you look at the first and second sectors there is absolutely nothing between them, so the difference seems to be in the third sector."