Organisers reveal full route for Rally Finland, including the expected return of Ouninpohja
| | |
| --- | --- |
| By David Evans | Tuesday, April 3rd 2012, 08:34 GMT |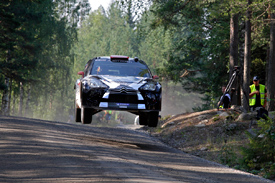 The full route for this year's Rally Finland has been revealed and it retains only three stages in identical form from last season's event.
Despite speculation that the event would return to a traditional Friday, Saturday, Sunday format, the Thursday-Saturday (August 2-4) itinerary remains, as do the stages in the Lahti region.
Instead of spending a whole day around the more southerly city, however, the competitors will only regroup there before the first three stages on Thursday afternoon.
The qualifying stage for Rally Finland runs through Ruuhimaki on Wednesday August 1 at 19.30. The event then starts from Jyvaskyla at 13.30 the following day, with three stages around Lahti and a return to Jyvaksyla at 22.35.
The crews will be out of service at 06.30 the following morning for a three loops of stages. Saturday's finale brings a further three loops of stages and a 21.00 finish.
The big news, as revealed by AUTOSPORT in February, is the return of the Ouninpohja stage, back in the timetable for the first time since 2007. Mokkipera and Palsankyla are return after a three-year absence, as does the superspecial at the Killeri trotting track on Friday night.
Much of the Surkee and Leustu stages haven't been seen since 2006, while parts of Surkee haven't been included since Juha Kankkunen collected his third and final win on the event in 1999. The organisers have also included some completely new roads on these two Saturday stages. Thursday's Mynnila test is the only completely new one on the route.
A statement from the organisers of the event says: "Looking back one year, we boldly took our event to new horizons and new audiences. We introduced almost a third of unknown territory to our competitors.
"From these adventures we have now taken the best experiences, having listened to the teams, the media and - most importantly - our fans and have refined all this into what we think is close to perfection."