Teams expect rough Portugal stages
| | |
| --- | --- |
| By David Evans | Thursday, March 29th 2012, 14:47 GMT |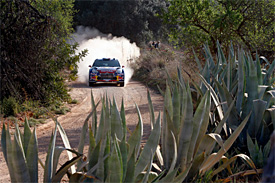 The stages on this week's Rally of Portugal will be among the roughest of the season following a long dry winter in the Algarve area.
The drivers admitted they were surprised at what they found when they completed their recce earlier in the week and Ford team principal Malcolm Wilson said he expected to give the cars as much attention as on the Acropolis Rally.
"From what the guys have been saying about the stage, it sounds like they are rough," said Wilson.
"It sounds like an old Acropolis and, for sure, we will be making more precautionary changes to things like suspension links and that kind of thing. We expect there will be a lot of impact damage to the cars."
Despite the nature of the roads, Wilson said there would be no room for a measured approach.
"The drivers will have to try and stay out of trouble," he said. "They will have to avoid the kind of things they were hitting in Mexico. I've just spoken to Ott [Tanak] and told him to drive sensibly and if he does that there's going to be a good result coming. There are long stages and long days here on this rally."
Citroen's Mikko Hirvonen added: "The stages on Friday and Saturday will be more difficult, there has been no rain for a very long time.
"The gravel has gone now and there is only the bedrock left and on some of the stages you can easily see our lines from the previous years - there are some ruts in some of the places. For sure, this is going to be very tough on the car."
The event, which got underway with a superspecial in Lisbon this afternoon, includes 21 more stages and 270 competitive miles.'