Sebastian Vettel still hungry for more success despite two F1 titles in a row
| | |
| --- | --- |
| By Jonathan Noble | Wednesday, March 14th 2012, 08:49 GMT |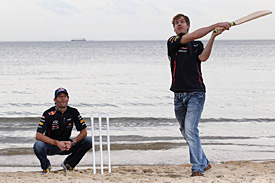 Sebastian Vettel has warned his rivals that he is still hungry for more success in Formula 1, as he bids to secure a third consecutive world championship title.
On the eve of the opening race of 2012 in Australia this weekend, Vettel says that his dominance of last year has not dimmed his desire for victory - and that he will get upset if he is not winning again this time out.
"My target was always to win the world championship, and after winning the first world championship it is a great relief in many ways because you have proven to yourself that you can do it – which is more important than anything else as it is something that no one can take from you," he said during a Red Bull promotional event on St. Kilda beach on Wednesday.
"All in all it is a great relief but that doesn't mean that you don't care what happens next. It is the opposite – you know it all starts again, everyone starts from zero again and you want to do it again naturally.
"So I have never had to ask myself the question, do I want this again or why am I here? Nothing has changed. I am still hungry, and I am still getting upset when there is someone else beating me – which is a good thing for sure.
"Everyone will get beaten one day, and it is not about that particular day but how you come back. There is nothing wrong with losing, but we have a lot of races and the one who is most consistent and on average the best one deserves to win the world championship."
Vettel has echoed the views of many of his rivals in saying the competitive picture of F1 is unclear right now – and he says he is not foolish enough to believe that more success can be taken for granted.
"It will be completely immature to believe that nothing ever goes wrong," he said. "I think from what I have seen so far, and what I have had to go through so far, I should be smart enough to know that it doesn't always go your way.
"To be honest, it didn't in the last couple of years and if you look at last year, for sure we had a great season but even there we had races where I think we could have done better, and other races where we should have done better. That is life in a way.
"You never know what is going to happen but, to be honest, it would be pretty boring if we did. I think not even half the people would be here, to make the effort to fly out and see what is going happen if we already knew [the result] before.
"That is the great thing and in particular this year, where you don't really know where you are, it looks as if all the teams are very close to each other – so there might be a couple of surprises. Lotus was very strong in the test so we have to wait – but only a couple more days, and then we know a lot more."
And although Vettel signed off his pre-season testing programme with a frustrating last day in Barcelona where he was hindered by a gearbox problem, he insists the reliability issues are not worrying him ahead of the first race.
"We would have loved to do a bit more on the last day, but reliability I think is not disastrous to be honest with you. It might look worse than it is," he said.
"Obviously you have to understand it is a new car and it's winter testing, when you have a problem or some numbers start to go a little bit somewhere you don't like then you obviously stop as a precaution, and you check the car – and that takes time. You have to take the floor off or certain parts of the car off to have a look, to get to them.
"It is not that easy, so you lose track time which is a shame but that is how it is. All in all we would have loved to do more laps but I think the issues we had we found always a solution and pretty quickly, but obviously you cannot react on the same day.
"Here we should be all set and we see how we get on. But like every year, cars are built on the limit and you try to get a little bit more, especially with the regulations staying very similar. You try to push the boundaries a little bit more and that is F1 – cars are built on the limit and they do also break from time to time."