Tony Stewart beats Jimmie Johnson to Las Vegas NASCAR Sprint Cup win
| | |
| --- | --- |
| By Diego Mejia | Sunday, March 11th 2012, 23:47 GMT |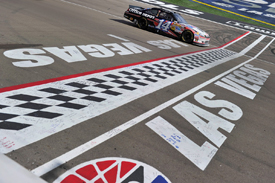 Tony Stewart resisted a charging Jimmie Johnson to claim his 45th NASCAR Sprint Cup career win and his first ever at Las Vegas.
The reigning champion was unbeatable on restarts in the decisive stage of the race, taking the lead for good with a bold move after the fifth caution of the day.
Stewart had been a contender since the early stages and survived a brief scare during the first half of the race when some debris blocked the air intake of the Stewart-Haas Chevrolet's radiator as he was attacking for the lead for the first time.
He eventually got up front after that but his key move came 33 laps from the end. The three-time champion had opted for only two new tyres on his penultimate stop, while most of his key rivals had gone for a full new set.
He also got just a splash of fuel on his last stop to try to remain ahead in clear air and although both Clint Bowyer (Michael Waltrip Toyota) and Penske's Brad Keselowski stayed out trying to stretch their fuel mileage, Stewart quickly powered past them, never surrendering the lead again.
While he was in control after that, three different cautions waved but in each of them he was able to remain up front, holding back Keselowski, Roush Fenway's Greg Biffle and Matt Kenseth, as well as Johnson in the final two green flags.
The final restart came only four laps from the end and Stewart drove some of his quickest laps of the race to keep Johnson in his mirrors and claim victory for the first time at Vegas, one of only three Cup venues he had not won at before.
Stewart's victory was also his first with new crew chief Steve Addington after parting ways with Darian Grubb following their championship at the end of last year.
"Every time the caution came out, I'm like 'not again'," said Stewart. "You wonder how many times you are going to give them a chance at it on a restart there, and when are they going to be able to capitalise on us. But, that was our strong suit today. We were really strong on the restarts."
Johnson was disappointed to miss out on victory and was surprised by Stewart's supremacy on restarts. The four-time Vegas winner still made an impressive comeback from the rear of the field, after crashing his primary car on his first lap of final practice on Saturday.
The Hendrick Motorsports driver had actually completed just 20 practice laps in his back up car before Sunday.
"Definitely a lot to be proud of today," said Johnson. "I think we had maybe a little bit more speed, but Tony could really get away on those restarts through the gears a lot better than I could.
"I will have to look into that and see if I was doing something wrong or something else is going on there."
Biffle finished third for the third week in a row and moved up to the points lead following another solid run. His team-mate Kenseth had been his squad's main contender for victory but his hopes were dashed on the final restart when contact with team-mate Carl Edwards while fighting for position ended up with him hitting the wall.
"Carl just laid back and got by me three-wide and then it just didn't seem like there was a lot of room getting into [Turn] 1," said Kenseth. "And then I did get clear behind him and he just stopped in the middle of the corner. I don't really know what happened."
Stewart's team-mate Newman was a solid fourth ahead of Edwards while Bowyer succeeded at saving enough fuel to make it to the chequered flag without an extra stop to finish sixth.
Richard Childress Racing's Paul Menard was a solid seventh ahead of Earnhardt-Ganassi's Jamie McMurray while Trevor Bayne impressed in the final stages, coming back from being a lap down to cross the finish-line in ninth ahead of early race leader Dale Earnhardt Jr.
Local hero Kyle Busch made great progress in the first half of the race but then hit the wall after running over fluids left by Travis Kvapil's engine blowing up. He then made a second charge but spun at Turn 4 six laps from the end to bring out the final caution.
Results - 267 laps:

Pos  Driver              Team/Car                         Time/Gap
 1.  Tony Stewart        Stewart-Haas Chevrolet       2h54m44.000s
 2.  Jimmie Johnson      Hendrick Chevrolet               + 0.461s
 3.  Greg Biffle         Roush Fenway Ford                + 1.526s
 4.  Ryan Newman         Stewart-Haas Chevrolet           + 1.919s
 5.  Carl Edwards        Roush Fenway Ford                + 2.371s
 6.  Clint Bowyer        Waltrip Toyota                   + 3.291s
 7.  Paul Menard         Childress Chevrolet              + 3.423s
 8.  Jamie McMurray      Earnhardt Ganassi Chevrolet      + 3.819s
 9.  Trevor Bayne        Wood Brothers Ford               + 4.465s
10.  Dale Earnhardt Jr   Hendrick Chevrolet               + 4.664s
11.  Kevin Harvick       Childress Chevrolet              + 4.832s
12.  Jeff Gordon         Hendrick Chevrolet               + 5.722s
13.  Marcos Ambrose      Petty Ford                       + 5.762s
14.  Jeff Burton         Childress Chevrolet              + 6.207s
15.  Regan Smith         Furniture Row Chevrolet          + 6.505s
16.  Joey Logano         Gibbs Toyota                     + 6.517s
17.  Martin Truex Jr     Waltrip Toyota                   + 6.744s
18.  Mark Martin         Waltrip Toyota                   + 6.891s
19.  Kasey Kahne         Hendrick Chevrolet               + 7.127s
20.  Denny Hamlin        Gibbs Toyota                     + 7.599s
21.  David Ragan         Front Row Ford                   + 8.145s
22.  Matt Kenseth        Roush Fenway Ford               + 12.983s
23.  Kyle Busch          Gibbs Toyota                      + 1 lap
24.  Aric Almirola       Petty Ford                        + 1 lap
25.  Juan Pablo Montoya  Earnhardt Ganassi Chevrolet      + 3 laps
26.  Bobby Labonte       JTG Daugherty Toyota             + 3 laps
27.  Casey Mears         Germain Ford                     + 3 laps
28.  David Stremme       Inception Toyota                 + 4 laps
29.  Dave Blaney         Baldwin Chevrolet                + 4 laps
30.  Ken Schrader        FAS Lane Ford                    + 4 laps
31.  David Reutimann     Baldwin Chevrolet                + 6 laps
32.  Brad Keselowski     Penske Dodge                     + 8 laps
33.  David Gilliland     Front Row Ford                   + 9 laps
34.  Brendan Gaughan     Childress Chevrolet             + 15 laps

Retirements:

     Kurt Busch          Phoenix Chevrolet                241 laps
     Landon Cassill      BK Toyota                        240 laps
     AJ Allmendinger     Penske Dodge                     238 laps
     Michael McDowell    Parsons Ford                     148 laps
     Travis Kvapil       BK Toyota                        123 laps
     Josh Wise           Front Row Ford                    64 laps
     Joe Nemechek        NEMCO Toyota                      44 laps
     Timmy Hill          Rick Ware/Max Q Ford              42 laps
     JJ Yeley            Robinson-Blakeney Toyota          39 laps