Kyle Busch says NASCAR's new fuel injection system still not reliable
| | |
| --- | --- |
| By Diego Mejia | Saturday, March 10th 2012, 04:07 GMT |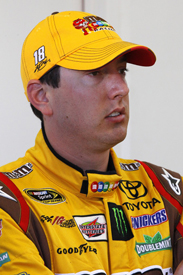 Kyle Busch has voiced his concern over issues with the new fuel Injection system recently implemented in the NASCAR Sprint Cup Series.
During last week's race at Phoenix Tony Stewart's car failed to quickly re-fire after the current Cup champion shut the engine off during the race in order to save fuel in the closing stages. He eventually finished 22nd and two laps down due to a lengthy stoppage in the pits.
Some drivers have experienced similar fire-up problems in practice and races, which makes Busch believe the issue related to the new system and not to a specific manufacturer, the Joe Gibbs Racing driver saying his team-mate Joey Logano had the same problem as Stewart at Daytona.
"I'm sure that all the computer technicians that we all have on our teams now are working through the diagnostics of how to fix that and what to do," said Busch. "It's certainly an issue that has arisen that we're all aware of and we all have to work through it as best we can and figure out the solution to the problem.
"Whether that solution is this week or whether its not 'til May or not 'til the end of the year, I don't know, but certainly those guys are working through all the different scenarios as best they can."
He added: "Those guys are working on all that stuff trying to make it where we can do what we need to do the same as what we did with a carburetor, but so far it's showing me that the mechanics of a carburetor seem to be smarter than a computer. We'll learn through it all."
Busch fears the problem could affect the outcome again if fuel strategy ends up being decisive in the outcome of the race, as it has been a number of times at Las Vegas Motor Speedway. He believes drivers will need to adjust their fuel-saving technique in order to prevent a repetition of Stewart's issue.
"Vegas very easily can come down to a fuel mileage race," said Busch. "Any of these races could. I think the best case scenario obviously is to try to keep your car running the best you can - whether you're pushing the clutch in getting it into the corners and just letting the thing idle or what have you.
"So we'll see how all that plays out. It's definitely something that you can't just shut the car off and let the clutch out and have it re-fire itself - you've got to use the starter switch."
Busch believes the new system's reliability still has to prove as good as that of the carburetor, and reckons the EFI may face the ultimate test at longer races with higher temperatures like those expected in the summer, a view shared by Penske's Brad Keselowski.
"I don't know if we've seen all the issues that there's going to be," said Keselowski. "I think that when the races get hotter, there's a lot of potential for failure, but I don't think anyone can really quantify what those potentials are or put any odds on it because we are seeing things that I don't think we even predicted we would see. Who knows? Maybe we're going to see some other things that are good."
Stewart's issue at Phoenix last weekend was related to a circuit breaker problem.