Mark Webber plays down Red Bull advantage as it introduces revised car
| | |
| --- | --- |
| By Jonathan Noble and Matt Beer | Saturday, March 3rd 2012, 16:55 GMT |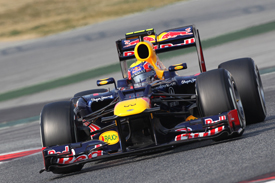 Mark Webber has played down the scale of the update package that Red Bull introduced for the final weekend of pre-season Formula 1 testing - and insists that the champion team faces huge competition at the front of the field.
Red Bull brought its latest chassis to Catalunya today, and the revised RB8 features extensive changes including a new exhaust layout and front wing.
But asked how different the car felt, Webber replied: "Not massively to be honest. A few changes but not massively different, and we got through our normal programme.
"There are a few more things coming tomorrow, but nothing drastic. We will just keep working away."
The Australian was only eighth fastest today, but just half a second off the pace, and he did not opt for the qualifying-style runs that many midfield teams tried.
Webber still maintained that the times rivals were doing - however they were achieved - proved that the competition would be tight.
"It is important for us to keep focusing on the programme here," he said. "It is impossible to know what other people are doing, and there are clearly some very, very fast teams out there.
"Everyone today was in the 1m22s so that is not hanging around at Barcelona these days. So there are a lot of quick teams, a lot of fast cars and we need to continue to work hard."
Webber added: "People can talk all they want about us but until we are at the top of the timesheets we have work to do. So there is still a long way to go."
He acknowledged that McLaren seemed to be Red Bull's closest rival, and also tipped Lotus and Mercedes as threats.
"I think McLaren look very strong, and some of the other times done by other teams were pretty handy too," said Webber.
"We have seen some quick times from Romain [Grosjean]. Kimi [Raikkonen] did not have much of a run today.
"The mystery a bit is the Ferrari.
"Also Nico [Rosberg] is going fast in the Mercedes, so he is quick and Mercedes is very fast. They are the guys who are extremely strong."
Asked if he therefore felt that F1 was closer at the front than it had been in 2011, Webber replied: "I think so, the pack is very tight. As I touched on several times that we have run, it is very tight between all the teams and Q2 will be interesting."