Davide Valsecchi quickest again in Jerez GP2 test
| | |
| --- | --- |
| | Wednesday, February 29th 2012, 16:47 GMT |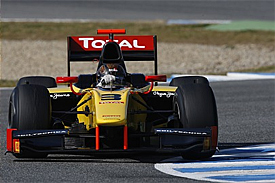 Davide Valsecchi topped the times on the second day of GP2 testing at the Jerez circuit on Wednesday.
The Italian DAMS driver, who was fastest on the opening day of the test, improved on his best time from yesterday by nearly 1.5 seconds to finish on top of the times.
Valsecchi was followed by Esteban Gutierrez in the morning session, the Lotus GP driver over half a second behind his rival.
Carlin's Max Chilton ended the day in third, with Coloni's Stefano Coletti and iSport's Jolyon Palmer completing the top five.
Caterham's Giedo van der Garde, 11th in the morning, was quickest in the afternoon, when the laptimes were much slower.
The Dutch driver's best after the lunch break was only good enough for 18th overall.
The test will resume tomorrow, when Kevin Ceccon will replace Tom Dillmann at Ocean Racing whilst the Frenchman will move to Rapax swapping with Daniel de Jong.
Morning times

Pos  Driver                   Team                      Time      Laps
 1.  Davide Valsecchi         DAMS                      1:24.783   32
 2.  Esteban Gutierrez        Lotus GP                  1:25.193   30
 3.  Max Chilton              Carlin                    1:25.294   26
 4.  Stefano Coletti          Scuderia Coloni           1:25.358   29
 5.  Jolyon Palmer            iSport International      1:25.359   24
 6.  Marcus Ericsson          iSport International      1:25.374   27
 7.  Dani Clos                Rapax                     1:25.467   18
 8.  Fabio Onidi              Scuderia Coloni           1:25.505   27
 9.  James Calado             Lotus GP                  1:25.569   25
10.  Fabio Leimer             Racing Engineering        1:25.845   29
11.  Giedo van der Garde      Caterham Racing           1:25.893   20
12.  Stephane Richelmi        Trident Racing            1:25.903   39
13.  Felipe Nasr              DAMS                      1:26.006   33
14.  Simon Trummer            Arden International       1:26.017   35
15.  Luiz Razia               Arden International       1:26.049   38
16.  Julian Leal              Trident Racing            1:26.128   27
17.  Tom Dillmann             Ocean Racing Technology   1:26.177   29
18.  Josef Kral               Barwa Addax Team          1:26.351   28
19.  Vittorio Ghirelli        Venezuela GP Lazarus      1:26.477   23
20.  Rio Haryanto             Carlin                    1:26.545   30
21.  Fabrizio Crestani        Venezuela GP Lazarus      1:26.551   16
22.  Nathanael Berthon        Racing Engineering        1:26.648   23
23.  Johnny Cecotto           Barwa Addax Team          1:26.665   18
24.  Rodolfo Gonzalez         Catheram Racing           1:26.707   32
25.  Daniel de Jong           Rapax                     1:26.712   31
26.  Nigel Melker             Ocean Racing Technology   1:41.035    2

Afternoon times



Pos  Driver                   Team                      Time      Laps
 1.  Giedo van der Garde      Caterham Racing           1:26.270   32
 2.  Davide Valsecchi         DAMS                      1:26.648   28
 3.  Julian Leal              Trident Racing            1:26.656   21
 4.  Dani Clos                Rapax                     1:26.838   18
 5.  Luiz Razia               Arden International       1:26.931   28
 6.  Josef Kral               Barwa Addax Team          1:27.002   28
 7.  Fabrizio Crestani        Venezuela GP Lazarus      1:27.097   23
 8.  Simon Trummer            Arden International       1:27.320   28
 9.  Stefano Coletti          Scuderia Coloni           1:27.349   27
10.  Stephane Richelmi        Trident Racing            1:27.451   21
11.  Felipe Nasr              DAMS                      1:27.496   33
12.  Johnny Cecotto           Barwa Addax Team          1:27.537   10
13.  Fabio Onidi              Scuderia Coloni           1:27.561   19
14.  Rodolfo Gonzalez         Caterham Racing           1:27.680   29
15.  Daniel De Jong           Rapax                     1:27.801   18
16.  Marcus Ericsson          iSport International      1:28.398   36
17.  Vittorio Ghirelli        Venezuela GP Lazarus      1:28.639   24
18.  Tom Dillmann             Ocean Racing Technology   1:28.656   3
19.  Max Chilton              Carlin                    1:28.999   35
20.  Jolyon Palmer            iSport International      1:29.146   41
21.  Fabio Leimer             Racing Engineering        1:29.449   22
22.  Rio Haryanto             Carlin                    1:29.629   25
23.  James Calado             Lotus GP                  1:29.847   47
24.  Esteban Gutierrez        Lotus GP                  1:29.866   35
25.  Nathanael Berthon        Racing Engineering        1:30.547   26