Bernie Ecclestone backs Mark Webber for F1 title fight in 2012
| | |
| --- | --- |
| By Jonathan Noble | Wednesday, February 29th 2012, 16:25 GMT |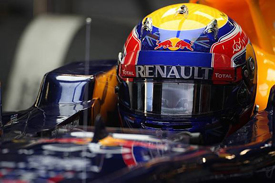 Mark Webber has been singled out as the man who has the best chance of stopping Sebastian Vettel landing a third consecutive title this year.
That is the view of Formula 1 supremo Bernie Ecclestone, who reckons that with Red Bull Racing again looking like the team to beat, a fired up Webber could be key to ensuring there is a close fight for glory in 2012.
"I just hope, I really, really, genuinely hope that Mark has a good crack at the title this year because it would be nice to see," Ecclestone said in an interview with The Age newspaper.
"I even think perhaps, in a funny way, Sebastian would be happy as well if he won the title - provided he couldn't.
"I think Mark will be the guy who will threaten him if anybody. The last time I spoke to him about it ... he's really motivated now. I think he realises. I said to him, 'Sebastian is quick. You've got to be quicker. Keep your head down and don't make mistakes you could manage to get the job done'."
Webber said last week that he felt fired up by his prospects for the season ahead, and believed a good start to the championship was going to be vital if he was going to rediscover the form that helped him take the title fight all the way to the final round in 2010.
"I had a pretty strong finish last season but unfortunately it was not the best of starts," he told the official Formula 1 website. "So for 2012 I want to have a good start, keep it together in the middle part and have a good finish. And then let's count up the points!"