Kamui Kobayashi says 2012 F1 regulations will boost Sauber
| | |
| --- | --- |
| By Sam Tremayne | Monday, February 6th 2012, 11:15 GMT |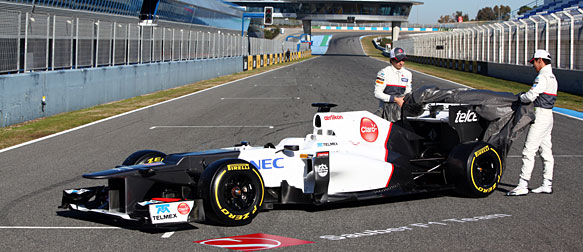 Kamui Kobayashi says Formula 1's various regulation changes for 2012 should serve as a boost to Sauber.
Speaking at Jerez, where the team unveiled its C31 challenger, the 25-year-old Japanese driver predicted the effective ban on exhaust-blown diffusers would work in his - and Sauber's - favour.
Both were hit particularly hard by last year's diffuser race, with Kobayashi scoring 25 of his 30 points in the first seven races of the year before a mid-season slump coincided with the team's decision to halt development work.
"Last year the exhaust performance affected speed, and we had developed it well but stopped before Silverstone and lost performance," Kobayashi explained.
"This year we definitely have a better chance because this [exhaust-blown diffusers] has gone, [so] we don't have to try something different to find downforce.
"Pirelli's [change in compounds] is also a good direction for us. As you know our performance and race pace is normally quite good. If we have more chance [in qualifying] we can be better."
Kobayashi did however caution Sauber, saying it was imperative that the team found the correct development path as early as possible during the season.
"Last year our biggest problem was with the exhaust [regulations], and we struggled for some points in the middle of the season." he explained.
"Last year we stopped [development] before the middle of the season; this year we have to really focus on how we develop the car.
"We have to really judge what we develop, which parts we focus on - this has to be investigated with the team. Hopefully if we don't miss it we can keep all our performance from beginning to end."