Vitaly Petrov says F1 drivers will welcome Pirelli's more aggressive approach
| | |
| --- | --- |
| By Jonathan Noble | Friday, January 27th 2012, 10:28 GMT |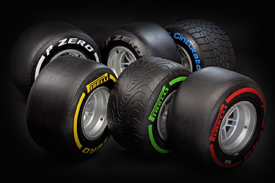 Vitaly Petrov says Formula 1 drivers will welcome a move by Pirelli to be more aggressive with its tyres this year.
Pirelli unveiled its plans for 2012 during a media launch at the Yas Marina circuit in Abu Dhabi this week, with the Italian company revealing that it was making the performance gap between compounds much closer to try and make the racing better.
Petrov, who was a guest of Pirelli's in Abu Dhabi and could become a test driver for the company if he fails to secure a race seat, believes the new rubber will stop F1 becoming boring.
"We all like it when you do a race and you do not know when the degradation will come, and how long the tyres will be good," said Petrov when asked by AUTOSPORT for his views on the 2012 plans. "You don't want to be able to put one set on early and then just finish the race.
"That is not interesting for us [drivers], because like that you can just drive as fast as you can, go over the kerbs and have lots of wheel spin.
"With Pirelli, if you have one wheel spin [moment] then you already have one stage of degradation. So that is why you need to be very calm and think about what you must do or what you must not do."
Petrov believes that the forthcoming pre-season tests at Jerez and Barcelona will be vital for allowing teams to understands what impact the new rubber will have on the racing, and whether Pirelli has succeeded in its aim of delivering multi-stop grands prix again.
"It is difficult now to say if it will happen, but they are trying to do that. After the tests we will have a clear idea of how much lap time difference there is, and then for teams it will be easy to predict what we can do. The tests will be very important."