Ryan Dalziel gives Starworks pole for Daytona 24 Hours
| | |
| --- | --- |
| | Thursday, January 26th 2012, 21:19 GMT |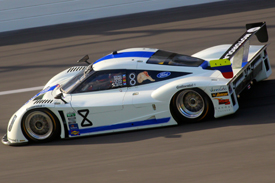 Ryan Dalziel gave Starworks Motorsport pole position for the Daytona 24 Hours with a flying lap midway through qualifying on Thursday.
Dalziel, who won the race in 2010, lapped in 1m41.119s to knock Max Angelelli off the top spot and give the Riley-Ford he is sharing with fellow Scotsman Allan McNish, Lucas Luhr, Alex Popow and Enzo Potolicchio pole for the race.
Angelelli tried to reclaim pole in the SunTrust Corvette he is sharing with Ricky Taylor and IndyCar star Ryan Briscoe, and got to within 0.121s of Dalziel's mark almost immediately after the pole time had been set.
Scott Dixon put the best of the Chip Ganassi Racing Riley-BMWs in third spot, while the Corvette DPs of Alex Gurney (Bob Stallings Motorsport) and Antonio Garcia (Spirit of Daytona) were next up.
Ozz Negri completed the top six in his Michael Shank Racing Riley-Ford in a time less than 0.7s off the pole time.
Last year's winning car, the #01 Chip Ganassi Racing Riley-BMW of Scott Pruett/Memo Rojas/Joey Hand/Graham Rahal, suffered a blown engine in practice. With the team unable to change the unit in time for qualifying, the car did not take part in the session and will start the race from the back of the DP pack.
Pole in the GT class went to Brumos Porsche driver Andrew Davis, who shares his car with Marc Lieb, Leh Keen and veteran Hurley Haywood.
Jeff Segal produced a sensational late effort to put the AIM Autosport Ferrari second, ahead of Andy Lally's Magnus Porsche. The trio were split by less than four hundredths of a second.
Leading qualifiers
Pos Cl   Drivers                                  Team/Car     Time
1.  DP   Dalziel/McNish/Luhr/Popow/Potolicchio    Riley-Ford   1m41.119s
2.  DP   Angelelli/Taylor/Briscoe                 Corvette DP  1m41.240s
3.  DP   Dixon/Franchitti/McMurray/Montoya        Riley-BMW    1m41.463s
4.  DP   Gurney/Fogarty/Gidley                    Corvette DP  1m41.519s
5.  DP   Garcia/Gavin/Westbrook/Magnussen         Corvette DP  1m41.611s
6.  DP   Negri/Pew/Wilson/Allmendinger            Riley-Ford   1m41.662s
7.  DP   Barbosa/Borcheller/Papis/France          Corvette DP  1m42.074s
8.  DP   McDowell/Nasr/Yacaman/Gonzalez           Riley-Ford   1m42.414s
9.  DP   Hunter-Reay/Luhr/Mayer/Potolicchio/Scala Riley-Ford   1m42.657s
10. DP   Frisselle/Frisselle/Lowe/Tracy           Dallara-Ford 1m42.773s