Red Bull's Helmut Marko says ousted Toro Rosso drivers had enough chances to prove their worth in F1
| | |
| --- | --- |
| By Michele Lostia and Matt Beer | Sunday, January 8th 2012, 16:32 GMT |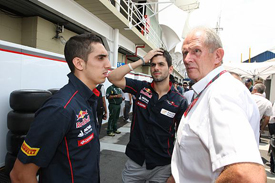 Red Bull advisor Helmut Marko says Sebastien Buemi and Jaime Alguersuari were given enough time to demonstrate whether they were potential grand prix winners, and lost their Toro Rosso seats because they failed to do so.
Buemi and Alguersuari had driven for Red Bull's junior Formula 1 team since the start and middle of the 2009 season respectively, but have been dropped in favour of Daniel Ricciardo and Jean-Eric Vergne for 2012. While Alguersuari's future is currently uncertain, Buemi will remain in the Red Bull fold as a reserve driver.
Toro Rosso team boss Franz Tost said last month that the driver decision had been taken to ensure STR remained a training ground for the next generation of Red Bull F1 stars rather than a home for established drivers. Marko - who oversees the firm's driver development - believes Buemi and Alguersuari had sufficient opportunities to show what they could do, and proved adequate rather than exceptional.
"Toro Rosso was created to give young drivers a chance," Marko told Gazzetta dello Sport. "Alguersuari and Buemi had it for three years and after this time it's possible to evaluate a driver's development.
"We haven't seen in them any possibility of growth. Both are worthy of grand prix racing, but for us that's not enough: we need winners."
Marko said he did not foresee any changes in Toro Rosso's role in the near future, even though it was becoming increasingly independent from Red Bull since having to switch to being a chassis constructor in its own right in 2010.
"It will certainly remain an Italian team based in Faenza, oriented towards young drivers," he said. "But Toro Rosso will have to keep developing more and more autonomously."
He also expects STR's Ferrari engine deal to continue.
"The contract is on for 2012; at the moment I can't say what will happen in the future, but up to now we are very satisfied with this co-operation," Marko said.