Lotus to switch to black and gold livery for its IndyCar, GP2 and GP3 teams
| | |
| --- | --- |
| By Jonathan Noble and Matt Beer | Monday, December 12th 2011, 17:45 GMT |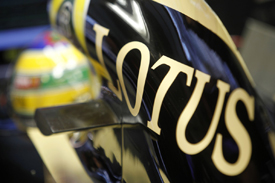 Lotus has announced that the teams it works with outside Formula 1 will switch to black and gold livery for 2012 to bring them in line with the grand prix squad's image.
Amid the dispute over the rights to use the Lotus name in F1 this year, Tony Fernandes' Team Lotus used traditional Lotus green and gold, while the Group Lotus-backed Renault team ran in the black and gold colours made famous when the original Lotus F1 operation had John Player sponsorship. But the Group Lotus-sponsored teams in IndyCar, GP2 and GP3 all ran in green and gold.
Lotus CEO Dany Bahar now says that for 2012 black and gold will become the standard livery for Lotus motorsport. Fernandes' renamed Caterham squad is keeping green and gold colours in F1.
"All the works supported racing activities will be black and gold, and all the customer racing will be green and yellow or whatever," said Bahar when asked by AUTOSPORT about 2012 livery plans.
Lotus currently backs ART in GP2 and GP3, while in IndyCar it will switch from being a sponsor of the KV team to a factory engine supplier to Bryan Herta Autosport, Dreyer & Reinbold and HVM.
The only exception to the black and gold rebranding will be HVM, which will retain a green-based livery at the request of its nuclear industry sponsor.
Bahar added that he was delighted that Lotus was increasing its IndyCar involvement to coincide with the return of open engine competition after six years of an all-Honda field. Lotus and Chevrolet are also providing engines for the series' new generation rules.
"IndyCar is different, it is the first time that they name a car after a brand - as before you would never say that [Helio] Castroneves was driving for whoever, it was always the Penske team.
"It wasn't the car, but now it is different, you have an engine and you have a car – so it is not super important the livery is there, as more important to have the name of the car or the name of the engine, which we have got in F1 now and in IndyCar as well.
"So it was always the aim, not to be a sponsor or sticker, but to be the car itself. It took some time to get there but we got there."