Romain Grosjean ready to take on Kimi Raikkonen at Lotus Renault in 2012
| | |
| --- | --- |
| By Jonathan Noble | Friday, December 9th 2011, 09:52 GMT |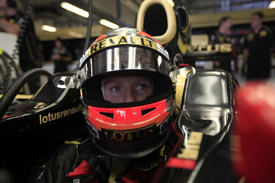 Romain Grosjean says he is unfazed about the prospect of going up against Kimi Raikkonen at Renault next year - and actually thinks it is him who will have the edge in understanding Pirelli's Formula 1 tyres.
The Frenchman was confirmed on Friday as Renault's second driver for 2012, with the team having announced immediately after the Brazilian Grand Prix that Raikkonen would be joining it.
And although that means Grosjean will face tough internal competition at the Enstone-based outfit, he says that it will be no bigger a challenge than when he raced alongside Fernando Alonso for the latter stages of 2009.
"After Fernando Alonso it is Kimi Raikkonen, so I am getting used to having a world champion alongside me," explained Grosjean in an official Renault team video.
"I think it is a chance because they are really good drivers, [but] they are more than that. You can learn a lot from them but, on the other hand, your first benchmark is your team-mate so if you manage to get to their level then it is very good for you."
Grosjean believes that there will be plenty to gain by understanding how Raikkonen operates, but he also does not think that the transfer of knowledge will be one way inside the team.
"From Kimi, I have plenty of things to learn for sure," he said. "He is a great champion and a very good driver, as everybody knows.
"But maybe I can teach him something about the Pirelli tyres that he never drove, except for the rally cars one. The F1 ones are a little bit different, and it will be a good deal for next year. I am sure we will get on well together and I will learn a lot from him, so let's see."
After failing to impress during his brief F1 adventure in 2009, Grosjean believes he is returning to grand prix racing a much better driver after capturing the GP2 crown this year.
"Romain Grosjean is for sure different to the end of 2009 when I could not get a seat for the following year for Formula 1," he said. "I had no seat in any categories until mid-April, and I think it helped me to realise that the place I enjoy the most everywhere around is an F1 car.
"Sometimes when you lose something that you really like, you realise it is more than you [just] like it – it is vital for you. I have been working very, very hard in these two years to improve myself, my driving and my feedback to the team – and improving everything I can to make it again to F1. Today I am so pleased it works and finally I can get back to a race driver seat."