Sebastian Vettel expects tougher 2012 season after dominant 2011 campaign
| | |
| --- | --- |
| By Jonathan Noble | Monday, December 5th 2011, 09:37 GMT |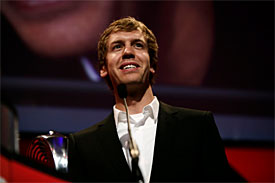 Sebastian Vettel has conceded it is going to be hard for him and Red Bull Racing to repeat their dominant 2011 form next year - but the world champion says he is going to relish the prospect of a tougher fight.
After a campaign that saw Vettel secure a record-breaking 15 pole positions, and capture the world title as early as the Japanese Grand Prix, the German is well aware that such form is rare in F1 history.
But rather than be downbeat that he is going to have a tough time keeping up the momentum of this campaign, Vettel insists that he cannot wait to be out there battling once again for title glory.
In an exclusive interview, after collecting the International Racing Driver of the Year trophy at the AUTOSPORT Awards, Vettel said nothing would ever beat the feeling of excitement that comes before the start of competition.
When asked how hard he believed it would be for Red Bull Racing to repeat its success in 2012, he said: "Difficult. There have been very few mistakes over this year, nearly faultless, from all of us – so it is never easy. But we will have to push very hard.
"People will catch up, and it will be very tight as it has been at times this year. But I am looking forward to it, and that is what it is all about.
"It would be fantastic to go around in an F1 car against the stop watch every single time – but it is the competition you are looking for: the tension, and the nervousness of standing on the grid when you are about to race."
Vettel believes it would be ridiculous for the team not to target doing better next year, but he also accepted that the outfit had to be realistic in its ambitions.
"I think if you look historically there haven't been many seasons like last year," he said. "Surely we will work very hard, and try to improve on what we had this year.
"It will be difficult as we have done very few mistakes, and that is not easy when you push yourself to the limit. But of course we are looking forward to next year.
"Now, we are looking forward to the break, then to next year and the competition, and when you start the race then your target has to be to win. And if you win, then sometimes it comes as a surprise, but if you expect it? We have been extremely successful the last two years and it would be weird going into the season to say that we just want to finish in the points. It is clear that we want to defend our title."
Vettel believes the way that McLaren delivered good form in the second half of the year points to an increased challenge from Red Bull Racing's rivals in 2012.
"You never go into a season aiming to achieve less than you did the year before. Of course there are still things that we did not achieve 100 p er cent this year. There are some mistakes we can learn from, and I hope we do.
"Surely the competition will be higher and we have seen, particularly McLaren at the end of the year being very strong with Jenson and Lewis [Hamilton]. So it will not be a walk in the park. But I don't think it has been this year.
"The gaps, if you look at the scoreboard, have been quite big. We had a phenomenal start. But then I think the racing has been very close, and I think the real difference – I don't think our car was that dominant this year.
"Last year we had a more competitive car in that regard. This year we were a more competitive team and we were able to race again, and do things in a different way, in a better way, and in the end that led to good start and from a television side maybe a boring race, but it is not that easy at all how these things come together."