Ross Brawn open to new deal for Michael Schumacher after 2012
| | |
| --- | --- |
| By Michele Lostia and Pablo Elizalde | Wednesday, November 23rd 2011, 15:19 GMT |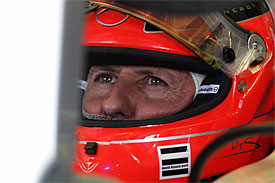 Mercedes GP boss Ross Brawn has not ruled out a new deal for Michael Schumacher after his current one expires.
The seven-time champion has a contract with the team until the end of the 2012 season, but Brawn says there is no reason not to extend it if Schumacher, who turns 43 in January, and the team enjoy a strong campaign next year.
"The contract includes one more season, but obviously should we both have a good year, both the team and Michael, then why not carry on for another year?" Brawn told Autosprint.
"It all depends on 2012: midway through next season we'll take a collective decision. I'm very calm: we have plans, at the moment, and I really don't believe he's thinking of going elsewhere..."
Brawn conceded his team has not performed as expected this year, but he was still encouraged by his squad's ability to extract the maximum from the car it had, especially during the second half of the season.
"For sure, in the second half of the season, we've extracted everything we could extract out of the car," he added. "The team has done very well, just like the drivers. We don't yet have a good enough car, but we are improving on this front too.
"But as a team, I repeat, we can be reasonably satisfied with what we've got out of the car. Just to be clear: I'm not saying we're content with the results thus far. We aren't competitive enough to get regularly on the podium or to do even better.
"Performance-wise we must improve, but as a team - and I'm talking about everyone's effort, reliability, preparation - we are top class."
Mercedes has ramped up its efforts to return to winning ways year, signing former Ferrari technical director Aldo Costa as well as Geoff Wills, who will join technical director Bob Bell.
Brawn is hopeful the new structure will reap rewards.
"In broad terms, Aldo is engineering and Geoff is technology," Brawn explained. "That means that Willis deals with aerodynamics, the car's dynamics, the checks, while Costa deals with the mechanical side, the integrity of the project, the transmission, and so on. Bob Bell is the technical director and he will have to ensure the group of people works well together.
"The point is that top people like Geoff and Aldo can't be boxed up. They have their areas of responsibility, but it would be silly to confine them in their roles. I've never worked like that, neither in Ferrari nor today in Mercedes. They must be able to interact among themselves if they so wish."