Points leader Carl Edwards takes pole for NASCAR Sprint Cup title decider at Homestead
| | |
| --- | --- |
| By Diego Mejia | Saturday, November 19th 2011, 22:15 GMT |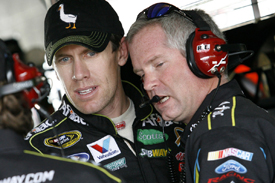 Carl Edwards gained a key morale boost in his bid for the NASCAR Sprint Cup Series title, claiming pole position for Sunday's season finale at Homestead.
The Roush Fenway driver had focused solely on qualifying during the final practice of the day, where he set the pace after running second fastest in the first session in which he ran in race trim only. His approach seemed to pay off for today at least, as he was able to repeat his speed in qualifying, with a lap of 30.775 seconds at an average speed of 175.467 mph.
Edwards' pole, only his second of the season, will not only give him the chance to score a bonus point if he leads the first lap, but also the first pit stall which may eventually be key to strategy during Sunday's 400-mile race.
In three of the past seven years, the eventual Cup champion has started from pole position, a statistic Edwards hopes to be able to add to.
"We've still got to run this race and I know how tough [title rival Tony Stewart] can be," said Edwards after claiming his 10th career pole. "I'm not counting anything yet. We're just going to keep our heads down, work on the car, go do the best we can.
"If anything, this is just good for our morale and for everybody to go sleep easy tonight and know we're going to have a good day on pit road, know we'll hopefully be able to run out front and not get caught up in anything."
Title challenger Tony Stewart will line up 15th on the grid, hoping his long-run pace enables him to be in contention for victory on Sunday. He stressed however that his focus has been on race pace as qualifying has rarely proved key in his previous victories.
"We spent a lot of time trying to find out what the combination was for race trim," said Stewart about his approach to practice on Saturday. "We've got the one-lap deal out of the way, now we have to focus on 400 miles.
"His [Edwards'] lap times fell off pretty hard in the one long run that he did. Looking at that, that's why I'm still really confident that what we did was the right thing today. Our times don't fall off as far as his did."
Michael Waltrip Racing's Martin Truex will start beside Edwards on the front row, while Red Bull's Kasey Kahne continued his strong end-of-season run with third, ahead of Penske duo Kurt Busch and Brad Keselowski.
Wood Brothers' Trevor Bayne was the fastest of those having to qualify on speed in 20th, while Scott Speed, Reed Sorenson, Mike Skinner, Scott Riggs and Grant Enfinger failed to make the field.
Pos  Driver              Team/Car                     Time     Gap
 1.  Carl Edwards        Roush Fenway Ford            30.775s
 2.  Martin Truex Jr     Waltrip Toyota               30.891s  + 0.116s
 3.  Kasey Kahne         Red Bull Toyota              30.931s  + 0.156s
 4.  Kurt Busch          Penske Dodge                 30.942s  + 0.167s
 5.  Brad Keselowski     Penske Dodge                 30.947s  + 0.172s
 6.  Matt Kenseth        Roush Fenway Ford            30.950s  + 0.175s
 7.  Jeff Gordon         Hendrick Chevrolet           30.957s  + 0.182s
 8.  Greg Biffle         Roush Fenway Ford            31.015s  + 0.240s
 9.  Jimmie Johnson      Hendrick Chevrolet           31.017s  + 0.242s
10.  Denny Hamlin        Gibbs Toyota                 31.040s  + 0.265s
11.  Dale Earnhardt Jr   Hendrick Chevrolet           31.051s  + 0.276s
12.  AJ Allmendinger     Petty Ford                   31.082s  + 0.307s
13.  David Ragan         Roush Fenway Ford            31.092s  + 0.317s
14.  Ryan Newman         Stewart Haas Chevrolet       31.147s  + 0.372s
15.  Tony Stewart        Stewart Haas Chevrolet       31.154s  + 0.379s
16.  Regan Smith         Furniture Row Chevrolet      31.156s  + 0.381s
17.  Clint Bowyer        Childress Chevrolet          31.164s  + 0.389s
18.  Marcos Ambrose      Petty Ford                   31.165s  + 0.390s
19.  Kyle Busch          Gibbs Toyota                 31.169s  + 0.394s
20.  Trevor Bayne        Wood Brothers Ford           31.185s  + 0.410s
21.  Kevin Harvick       Childress Chevrolet          31.186s  + 0.411s
22.  Landon Cassill      Phoenix Chevrolet            31.197s  + 0.422s
23.  Paul Menard         Childress Chevrolet          31.199s  + 0.424s
24.  Brian Vickers       Red Bull Toyota              31.220s  + 0.445s
25.  Mark Martin         Hendrick Chevrolet           31.234s  + 0.459s
26.  Jamie McMurray      Earnhardt Ganassi Chevrolet  31.268s  + 0.493s
27.  Juan Pablo Montoya  Earnhardt Ganassi Chevrolet  31.276s  + 0.501s
28.  David Reutimann     waltrip Toyota               31.318s  + 0.543s
29.  Cole Whitt          Red Bull Toyota              31.324s  + 0.549s
30.  JJ Yeley            Front Row Ford               31.397s  + 0.622s
31.  Jeff Burton         Childress Chevrolet          31.428s  + 0.653s
32.  Joey Logano         Gibbs Toyota                 31.453s  + 0.678s
33.  Michael McDowell    HP Toyota                    31.568s  + 0.793s
34.  Dave Blaney         Baldwin Chevrolet            31.574s  + 0.799s
35.  Bobby Labonte       JTG Daugherty Toyota         31.601s  + 0.826s
36.  David Stremme       Inception Chevrolet          31.601s  + 0.826s
37.  Joe Nemechek        NEMCO Toyota                 31.657s  + 0.882s
38.  David Gilliland     Front Row Ford               31.738s  + 0.963s
39.  Casey Mears         Germain Toyota               31.778s  + 1.003s
40.  Travis Kvapil       Front Row Ford               31.919s  + 1.144s
41.  TJ Bell             FAS Lane Ford                32.199s  + 1.424s
42.  Geoffrey Bodine     Baldwin Chevrolet            33.161s  + 2.386s
43.  Mike Bliss          TRG Ford                     31.776s  + 1.001s

Did not qualify:

     Scott Speed         Whitney Ford                 31.853s  + 1.078s
     Reed Sorenson       Gordon Dodge                 31.885s  + 1.110s
     Mike Skinner        Max Q Ford                   32.031s  + 1.256s
     Scott Riggs         K Automotive Chevrolet       32.186s  + 1.411s
     Grant Enfinger      Sinica Chevrolet             32.568s  + 1.793s