Marko Asmer hopes to revive career in Macau GP
| | |
| --- | --- |
| By Jonathan Noble | Wednesday, November 16th 2011, 09:29 GMT |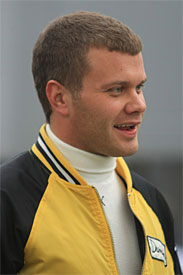 Former BMW Sauber test driver Marko Asmer is hoping that a strong showing in the Macau Grand Prix will help resurrect his career, after spending almost three years on the sidelines.
The Estonian, who is a former British F3 champion, has been without a full-time drive since competing in GP2 alongside his BMW Sauber commitments in 2008.
Since then, his only outings have been testing in Superleague and GP3, and the occasional race outings in Austrian Formula Renault and F3.
Keen to get back racing full-time, with his sights set on a move to DTM, Asmer has secured a deal with Double R Racing for this weekend's Macau Grand Prix to get himself back in the spotlight.
"I have a passion for racing," he told AUTOSPORT. "We talked about it last year already because I was out of racing unfortunately, and with 'Boyo' [Double R team boss Anthony Hieatt] we talked about doing Macau again.
"I don't know how it came up, it came up somehow, so we did the plan to do this. That is why I am back trying to enjoy as much as possible."
Asmer admitted that things had been hard for him seeing his career in motor racing come to a halt through lack of funds, which is why he is relishing getting a fresh opportunity.
"I have done two [F3] races this year, Pau and Spa, but not much driving. It has been tough but that is life. I would like to race again, but if there is no opportunity then there is nothing I can do really.
"For sure it will be very hard, I have no doubts about that, because the field is strong and I haven't driven that much. But it is a challenge and I hope to do well, so let's see."
Asmer said he was open-minded about what was possible this weekend - because although racing in Macau for the fourth time he will still have to get used to a different team and a new track surface since he was last here.
"I still believe in myself, and I know I am still quick. But it is Macau and everything can happen, it can go very well or the opposite. I had the chance here in 2006 when I was leading into the first corner and there was a crash, but it was not really my mistake.
"Anything can happen. I don't even know what are my hopes and expectations are. All I know is that anything is possible."