Ecclestone says he had "no alternative" but to pay BayernLB banker
| | |
| --- | --- |
| By Jonathan Noble | Thursday, November 10th 2011, 07:58 GMT |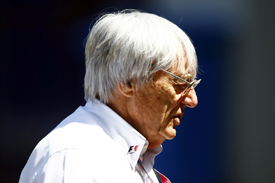 Formula 1 supremo Bernie Ecclestone has told German courts that he feared being on the receiving end of a costly tax probe if he did not pay former BayernLB banker Gerhard Gribkowsky to keep quiet.
Ecclestone has been testifying in the trial of Gribkowsky, who is charged with bribery, embezzlement and tax evasion over the sale of F1 in 2005.
Speaking to the courts about a £27.5 million payment that was made, Ecclestone said: "I had no alternative at the time.
"The only alternative was that the British tax authorities followed a case that would have been very expensive for me."
He added: "The tax risk would have exceeded two billion pounds. I paid him (Gribkowsky) to keep calm and not to do silly things. I knew he wanted to start a business."
Ecclestone has been promised immunity from prosecution for anything he says in his testimony, but could yet be implicated for his role in the affair.
He said that Gribkowsky never openly threatened to tip off the British tax authorities, but that he felt there was a big enough risk of it happening.
Ecclestone also revealed that £18 million of the money was paid to Gribkowsky via former Renault team boss Flavio Briatore.
He explained Briatore knew the reason for the payment: "I said I was being shaken down."