Mikko Hirvonen acknowledges Wales Rally GB title decider will be very tough
| | |
| --- | --- |
| By Matt Beer | Monday, October 24th 2011, 16:57 GMT |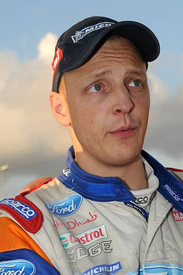 Mikko Hirvonen says he needs a 'perfect' rally in Wales next month if he is to prevent Sebastien Loeb winning an eighth straight World Rally Championship title - but is confident he is up to the challenge.
Ford driver Hirvonen is eight points behind Loeb heading for the British event on 10-13 November. He made massive gains in the title race when Loeb crashed in Australia and had an engine failure in France, but Loeb edged away again by winning in Spain last weekend.
Hirvonen says he knows that he needs to both win the rally and the bonus points power stage in Wales to have a good chance of stopping Loeb.
"It's going to be a tough one," Hirvonen acknowledged. "Everything needs to be perfect there.
"The only thing I can do is win the rally and the power stage as well. That's the only way I can try to fight for the title."
Hirvonen has struggled for pace at times this season, and required team-mate Jari-Matti Latvala to hand him positions in the last three rallies, but the 2007 Wales winner is confident he will be quick enough in the decider.
Two years ago Loeb beat Hirvonen to the title in a close fight in Wales, finally settled when the Finn's bonnet came loose on the final day.
"In previous years I have always had really good pace over there so I believe that will be the same this year as well," said Hirvonen.
"We will have a good fight. I just need to make sure the bonnet pins stay closed and we don't have any problems like that this year."
Although Loeb can afford to finish behind Hirvonen and still take the title, subject to their power stage results, the Citroen driver said he will not be taking any chances.
"If he's winning I have to be second with some good points from the power stage," said Loeb. "For sure I will try to fight with him and not to be behind.
"It's a very open situation and it's not easy. We will have to fight hard in GB. We know it can be very difficult so we will see what happens. It will be interesting."