Denny Hamlin says NASCAR Sprint Cup Toyota squads will work together
| | |
| --- | --- |
| By Diego Mejia | Friday, October 14th 2011, 08:52 GMT |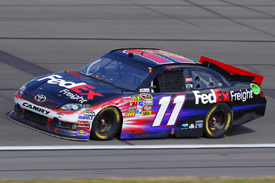 Denny Hamlin says Toyota teams in the NASCAR Sprint Cup Series plan to work closer together in order to have a better shot at the title next year.
Following the announcement earlier this year that Joe Gibbs Racing, the leading Toyota outfit in Cup, is set to run Toyota Racing Development (TRD) engines like those used by Michael Waltrip Racing and Red Bull Racing, the Japanese manufacturer plans to get its teams to share more information in the future.
Speaking at Charlotte Motor Speedway, Denny Hamlin said he ran a Michael Waltrip Racing car equipped with the new for 2012 fuel injection system during last week's test at Phoenix International Raceway. He said the move was part of a new philosophy of having a bigger pool of information for all Toyota teams in NASCAR's top Series.
Chevrolet currently has more than a third of the Cup field, while Ford has almost the same amount of cars, leaving the smallest roster to Toyota.
"I think there are some things in both programmes and if we work together, the two Toyota teams, we can make all of them better," said Hamlin. "But, there has to be some transparency between the teams and I think they are starting to do that.
"It's not the one element that we have to work on to make our cars drive like the MWR cars because I feel like our cars are strong in the running sense and a lot of areas. You got to kind of mesh those worlds. It definitely opens up your eyes to see different changes that you might want to have."
Part of the success that Toyota has enjoyed in the Truck and Nationwide Series, where it has already been champion, has been due to TRD bringing its teams together in an effort to beat rival manufacturers Chevrolet, Ford and Dodge.
Hamlin believes the possible closure of the current Red Bull Racing Team may eventually bring the number of Toyota teams down to only two, making it even more important to join forces between the remaining outfits.
"Realistically [it could be] two teams after this year is over with the Red Bull cars going away, so we have to optimise," he said. "When you think about it, Roush has probably 10 cars out here in different teams and things like that. So, they have 10 engines, so when they work on fuel development and things like that, it's affecting a large part - 25 per cent - of the field.
"Same with the RCR [Richard Childress Racing], Hendrick engines - you have so many Chevrolet cars and Ford cars that they're able to share that fuel information and everything.
"We have to really figure it out between a couple teams. If we can double our capacity by getting more information from MWR and MWR coming over and helping JGR, then that's going to help all Toyota teams.
"That's our goal, to try to make Toyota as strong as possible because the better they run, it's going to help us and vice versa. I think in the future you'll see all the teams work a little bit closer together."
Hamlin reckons Toyota may currently be at a disadvantage relative to its competitors in the engine department, given that all other manufacturers have released new engines over the past four years while Toyota continues to run the same block it has since joining the series in 2007.
"They have the oldest engine, believe it or not, of all the other manufacturers," he said. "Ford and Chevrolet and Dodge, I feel, have come out with new engines these last few years and it's really seemed to help them where we have the oldest block.
"We have the same block that we started with years ago. Things change and obviously we're trying to optimise that engine as much as possible, but maybe we should go to NASCAR and lobby to get a newer engine.
"Their support is unwavering. I feel like they're going to do whatever it takes to get on top of this game. It took a little while for it to happen in the Trucks and even longer to happen in the Nationwide Series and the same thing goes for Cup.
"This is a very competitive business and asking them to just be out here and be the best right off the bat, it's possibly too much to ask for. It could be some time before you'll see that."
Toyota's chances of fighting for this year's Cup title rely solely with Kyle Busch right now, as Hamlin has lost too much ground in the title race, following a poor start to his Chase.