Mofaz Formula Renault 3.5 team to close
| | |
| --- | --- |
| By Peter Mills | Friday, October 7th 2011, 12:16 GMT |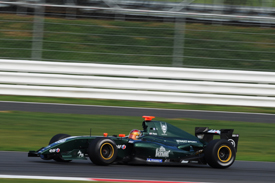 The Mofaz Racing Formula Renault 3.5 team is set to close following the final race of 2011 at Barcelona this weekend. The Wellingborough-based team is owned by the family of Malaysian racer Fairuz Fauzy.
The team has struggled to find another fully-funded driver to partner American Jake Rosenzweig this season.
Former Superleague Formula race-winner Chris van der Drift received a last minute call-up to start the season in Mofaz's second seat. Budget difficulties then forced the Kiwi to cede his place to Super Nova GP2 driver Fauzy. Van der Drift's high point of the season, third place at Spa-Francorchamps in May, was equalled by Fauzy at the Nurburgring.
"I am really disappointed not to continue," said Fauzy. "We had a sponsor that never paid us the money on time, so we had to think whether to inject more capital into the team and then perhaps lose more money. It is sad news for us, but nevertheless in the motor racing world you can always come back.
"Now my dad's task is to concentrate on the Asian side, where we are still running Mofaz Racing. My dad wants to focus on grooming young talent in that part of the world."
Fauzy entered Formula Renault 3.5 with Cram by P1 in 2007, before joining Fortec in Monaco the following year. Mofaz acquired Fortec's FR3.5 operation in 2009, running Fauzy to second place in the drivers' standings. Richard Dutton's Fortec concern elected to establish its own FR3.5 team again for 2010, while Mofaz, located in the former Ultimate Racing premises, entered cars as Junior Lotus Racing.
"I don't know what will happen with the factory," continued Fauzy. "At the moment I will leave it to my dad, but I don't know what his real plan is. All I know is he's still in talks with some people in another championship.
"I still think this has been a good experience. I want to thank Renault, [series organiser] RPM and the organisation for giving us the opportunity to get into this series. We are waiting for a sponsor to pay us, but they never paid us on time. We understand in this current economic downturn it's very difficult to find the money, so now I think it's time to look on the Asian side."
Fauzy ended Friday morning's opening collective test at Barcelona seventh fastest. Rosenzweig ended the morning 13th, and has confirmed he will contest the Abu Dhabi GP2 race with Addax.
"On my behalf I still haven't decided on my plans for next year," said Fauzy. "My management is working, hopefully, to secure a single-seater drive for next year. But I can't say anything yet until I get some sponsors.
"The most important thing, though, is to get the best result for this last weekend. We're sixth in the teams' standings, which is not too bad at all. Jake did a great job in the last two races, finishing fourth both times. Hopefully me and Jake can score good points this weekend. I feel for the boys, but I said to them 'this is the last race, let's do our best.'"