Massa moves on from Hamilton clash
| | |
| --- | --- |
| By Pablo Elizalde | Tuesday, October 4th 2011, 16:12 GMT |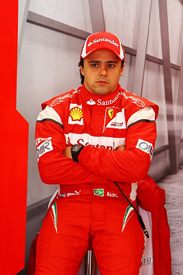 Felipe Massa says he has already moved on from his clash with Lewis Hamilton, and has downplayed the comments from his race engineer Rob Smedley in Singapore.
The Brazilian driver was very critical of Hamilton in Singapore, first after an incident in qualifying and then after making contact with the Briton after the race.
The controversy was further fuelled when the official Formula 1 website revealed Smedley had told Massa to "destroy" Hamilton's race, a message that has already been played down by Ferrari.
Massa also said on Tuesday that his crash with Hamilton and Smedley comments were totally unrelated and admitted he had already moved on from it.
"Like I said last week, the Singapore Grand Prix is already yesterday's news and there are no more reasons to talk about a weekend that was far from positive for me," wrote Massa on Ferrari's website.
"It's better to concentrate on the next race weekend, Japan, hoping that it starts well and ends without any unpleasant surprises. Just one more thing before I finally turn the page: I've been told that there was a bit of a storm over a phrase that my race engineer said during the race.
"Apart from the fact that I don't recall what Rob said, I don't think there's any value in stirring up trouble now and trying to link this with the subsequent contact with Hamilton: they are two separate moments and they have nothing to do with each other.
"I'm sure that Lewis and I will find a way to clear this up and put a lid on this story, as is only correct between two drivers. What happens on the track should remain on the track."