Formula 1 teams seek clarification over 2012 calendar issues
| | |
| --- | --- |
| By Jonathan Noble and Dieter Rencken | Sunday, September 25th 2011, 11:38 GMT |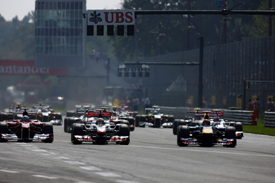 Formula 1 teams are to seek clarification from Bernie Ecclestone about the state of the 2012 calendar, because they insist that it was ratified without their support.
As part of the Concorde Agreement, the document that binds F1 together, teams have to give approval to a calendar if there are more than 17 races and if more than half the races take place outside of Europe and the United States.
Under the version of the 2012 calendar that was published recently by the FIA, 11 of the 20 races are classified as these so-called 'flyaways'.
The Formula One Teams' Association (FOTA) has written to both Ecclestone and FIA president Jean Todt to explain that it believes the calendar was implemented without the Concorde Agreement procedure having been followed.
AUTOSPORT understands that Todt has replied to FOTA stating that it is purely a matter for them and the sport's commercial rights' holder to sort out, as the FIA simply rubber stamps the schedule that is put forward to it by Ecclestone.
FOTA vice chairman Eric Boullier told AUTOSPORT that discussions with Ecclestone were now likely to resolve the matter - amid some concerns about the logistics and costs of the final sequence of races.
"There is a process for the validation of the calendar, especially with more flyaways, and we will be involved in this because there is a cost issue," he explained. "There are different proposals at the moment, but it is not so easy to move one date."
Sauber CEO Monisha Kaltenborn said that the issue was more related to the Concorde Agreement procedures than any push to get dates changed.
"We do have certain provisions in the Concorde Agreement, which regulate team consent when it is required," she told AUTOSPORT. "The procedure was, strictly speaking, not adhered to, but we should keep in mind what the outcome is. If something is not adhered to, we should rectify it quickly and be happy with the outcome.
"What matters here is that there are 20 races, in regions that we want to go to, so let's sort this issue out and get on with more important things."
Ecclestone himself brushed off the issue – and said that if the teams were not happy with the calendar then they had the option of not taking part.
"They don't have to go if they don't want to," he said.
When asked about the teams being unhappy that the procedures were not followed, Ecclestone replied: "Then they should go to the police. They are lucky we have got races. Otherwise they would all go out of business."