Vettel insists title is not won yet despite huge gap in the championship
| | |
| --- | --- |
| By Jonathan Noble and Pablo Elizalde | Thursday, September 22nd 2011, 11:17 GMT |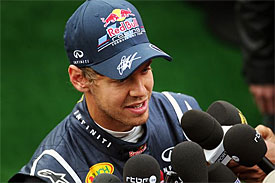 Sebastian Vettel insists he has not won anything yet and claims he is in no rush to secure his second title as long as he manages to clinch it.
The Red Bull driver has a 112-point advantage over Ferrari's Fernando Alonso with six races to go and has his first chance to secure the title in Singapore this weekend.
Vettel made it clear on Thursday, however, that his goal is to do the best possible job this weekend, without thinking about the possible scenarios that would make him a double world champion.
"Would, could, should... so far we haven't won anything," Vettel said in Singapore on Thursday. "We are in a good position but still have some way to go. We have to race and doing our normal job, try to achieve our best.
"It is one of the most difficult tracks for cars and drivers, it is a long way to the chequered flag.
"Obviously a lot of people talk about it, but certain things have to happen. It reminds me of the situation we faced in Abu Dhabi last year, where people came up every two/three minutes giving another option, what is possible out of 1,147 options.
"This could be one, that is not the objective or target this weekend - the target is to optimise our performance.
"Generally our target going into this season was to defend the title. We are in a very good position and there is no reason the target should change. It doesn't matter when, it matters that it happens."
The world champion said there is no added pressure to clinch the title in Singapore, but admitted he will go for it if he has the chance.
"I think there is always pressure on me and us because we want to achieve our best every single weekend, and achieve our maximum," he added.
"If there is a possibility or a chance to win we want to go for it. I don't feel any extra pressure trying to win the championship here or win it in one particular place. We just have to remind ourselves what the target was going into the season, it was not to win the championship in Singapore, it was to win the championship itself."
And the German said it was hard to predict who will be strongest this weekend, but he believes the battle with Ferrari and McLaren will be very tight.
"It will be a long weekend, a very long race, it is nearly two hours, longer than the other races we have during the season. Ferrari were competitive last year, we were equally matched but couldn't get past on the track. Hopefully this year is the other way around.
"On this circuit it's hard to predict who is going to be competitive. I think we will be fighting McLaren and Ferrari, but Mercedes could have a good chance here. It is a circuit where the car is important but the driver can make a difference."