Wickens completes Vairano test for Virgin Racing
| | |
| --- | --- |
| By Pablo Elizalde | Wednesday, September 14th 2011, 09:04 GMT |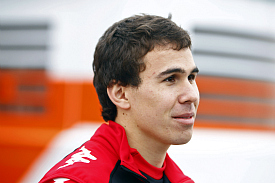 Robert Wickens made his testing debut at the wheel of a Formula 1 car on Tuesday when he drove for the Virgin Racing team at Vairano.
The Canadian, who had joined the team as a reserve driver earlier this year, completed a straight-line testing programme for the outfit at the Italian circuit.
Wickens, who had previously driven F1 machinery when he completed a demo run for Renault, covered 210 km in the MVR-02 car.
"It was great to work with the team in this way," he said. "Driving the car is obviously a natural step in my progression and education as a Reserve Driver with Marussia Virgin Racing.
"Like all drivers I'm eager for seat time and the work we did today undoubtedly plays an important role for the team in its aerodynamic development program.
"It was a good day and I was happy to sample the car for myself, albeit in a straight line, having watched Timo and Jerome behind the wheel for the past couple of months!"
Team principal John Booth added: "It was a slow start to the day due to an issue with the engine, however the Cosworth technicians working with the team did a good job to solve the problem as quickly as possible. From that point on, the day ran pretty much to plan and we have been able to collect a huge amount of data to analyse.
"Robert also did a great job in his F1 testing debut. It was his first time in the MVR-02 car and he adapted very quickly to the controls and steering wheel. It has been a very positive experience for him which he has handled very well."