Schumacher not expecting Mercedes' straightline speed to boost his Monza chances
| | |
| --- | --- |
| By Jonathan Noble and Matt Beer | Thursday, September 8th 2011, 15:54 GMT |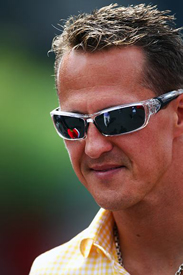 Michael Schumacher doubts whether Mercedes will be any more competitive than usual at Monza despite the circuit's long straights potentially playing into its hands.
Mercedes had one of its most competitive showings of recent months at Spa a fortnight ago, when Nico Rosberg led the opening laps and Schumacher came from the back of the grid to fifth.
The car's straightline speed was a key element in that performance, but despite Monza's layout featuring mostly long straights and few fast corners, Schumacher expects his team to be in its usual position behind Red Bull, McLaren and Ferrari.
"Look at our ranking and at the moment it's pretty consistent in seventh or eighth - we are the fourth-strongest team and that's what is the optimum," he said.
"At Monza straightline speed is good for us. Circuits with less corners seem to be beneficial.
"But honestly I don't think it's really enough to change our general position because the gap is too big."
The seven-time world champion took five victories at Monza in his Ferrari days, but sees no chance of repeating that feat with Mercedes in 2011.
"Certainly winning Monza is one of the sensational moments, and particularly being up on the podium - I think it's a unique atmosphere on the podium, there's nowhere else quite so intense," Schumacher said.
"But I don't think we have a reason to talk about victories in my position, at the moment. We'll have to postpone this for next year."
He also denied that his charge from the rear of the field in the Belgian Grand Prix had given him a boost for this weekend, saying it was more the case that the media had paid greater attention to his Spa drive rather than it marking a step forward in his performance.
"It definitely gave me satisfaction but it only confirmed what I've been telling you guys and what I know that I'm able to do," said Schumacher. "I've not always been able to show this for various reasons.
"I didn't feel I have a reason to lose that confidence - the ability is still there. At most of the races this year I've been there or even quicker, although the results didn't show that."