Steven Kane and Humaid Al Masaood claim maiden American Le Mans win in Baltimore
| | |
| --- | --- |
| | Saturday, September 3rd 2011, 22:46 GMT |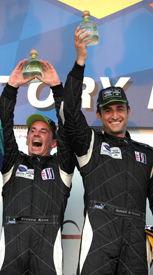 Dyson Racing's rookie duo Steven Kane and Humaid Al Masaood scored their first American Le Mans Series victory in the two-hour race around the new Baltimore street circuit.
Kane led home a Dyson Lola-Mazda one-two, with LMP1 championship leaders Guy Smith and Chris Dyson having to settle for second.
Dyson had edged away from Al Masaood in the first stint, but then lost a lot of time struggling to get the car restarted after the pitstop, allowing Kane to make a break in the second half of the race, and ultimately win with a 6.9-second cushion despite Smith's best efforts.
The Dyson cars had the fight for victory to themselves as the Muscle Milk Lola-Aston Martin of Romain Dumas and Klaus Graf had to start last following mechanical problems in practice and qualifying, then was further delayed with brake issues in the race.
A chaotic GT battle started with a three-way first-corner tangle between Falken Porsche's Wolf Henzler and the two Corvettes, which spun the #4 Corvette to the back, sent the #56 BMW down the escape road in avoidance and caused a big traffic jam in the midfield.
Dirk Werner's #55 BMW led the class at first, with Olivier Beretta's Corvette and the Falken Porsche - both of which quickly disentangled themselves from the lap one mess - right on his tail.
Beretta dropped back with an early spin, but Henzler was able to put a spectacular outside-line move on Werner to take the lead just before the half-hour mark.
The #55 BMW and #3 Corvette then jumped to the front by virtue of pitting just before a long caution period required to fix a manhole cover that had become detached.
They did not stay there long, though, as a rash move from Tommy Milner at the restart sent BMW driver Bill Auberlen spinning and earned the Corvette a penalty.
That put Henzler's team-mate Bryan Sellers back in the GT lead, where he stayed to the finish to take Falken's first dry weather win.
The #56 BMW and #4 Corvette recovered to complete the podium.
The #45 Flying Lizard Porsche and the Risi Ferrari were both put to the back after their qualifying clash. Toni Vilander and Jaime Melo got the Ferrari up to sixth, but the Porsche had a long pit visit while suspension repairs were undertaken.
Kyle Marcelli and Tomy Drissi won LMPC for Intersport in third overall, while the Black Swan Porsche of Tim Pappas and Jereon Bleekemolen went around the outside of all the chaos at the first corner, made a big break from their class rivals, and duly went on to win in GTC.
Results - 71 laps:

Pos  Cl   Drivers             Team/Car                    Time/Gap
 1.  P1   Al Masaood/Kane     Dyson Lola-Mazda        2h01m03.170s
 2.  P1   Dyson/Smith         Dyson Lola-Mazda            + 6.961s
 3.  PC   Marcelli/Drissi     Intersport FLM             + 25.760s
 4.  PC   Lux/Julian          Genoa FLM                  + 58.462s
 5.  PC   Bennett/Montecalvo  CORE Autosport FLM       + 1m00.861s
 6.  GT   Henzler/Sellers     Falken Porsche           + 1m16.935s
 7.  PC   Jeannette/Gonzalez  CORE Autosport FLM       + 1m19.921s
 8.  GT   Muller/Hand         BMW                          + 1 lap
 9.  GT   Gavin/Magnussen     Corvette                     + 1 lap
10.  PC   Nicolosi/Boon       Performance Tech FLM         + 1 lap
11.  GT   Miller/Maassen      Miller Porsche               + 1 lap
12.  GT   Auberlen/Werner     BMW                          + 1 lap
13.  GT   Melo/Vilander       Risi Ferrari                 + 1 lap
14.  GT   Beretta/Milner      Corvette                     + 1 lap
15.  P1   Burgess/McMurry     Autocon Lola-AER            + 3 laps
16.  GT   Neiman/Law          Flying Lizard Porsche       + 3 laps
17.  GT   Sharp/van Overbeek  Extreme Speed Ferrari       + 3 laps
18.  GT   Brown/Cosmo         Extreme Speed Ferrari       + 3 laps
19.  GTC  Pappas/Bleekemolen  Black Swan Porsche          + 4 laps
20.  GTC  Sweedler/Keen       Alex Job Porsche            + 4 laps
21.  GTC  Potter/Stanton      Magnus Porsche              + 4 laps
22.  GTC  LeSaffre/Davis      Green Hornet Porsche        + 4 laps
23.  GTC  von Moltke/Bunting  TRG Porsche                 + 4 laps
24.  GTC  Ende/Pumpelly       TRG Porsche                 + 4 laps
25.  P1   Dumas/Graf          Muscle Milk Lola-Aston      + 7 laps
26.  GT   Bergmeister/Long    Flying Lizard Porsche      + 15 laps

Retirements:

     PC   Ducote/Ducote       Intersport FLM               52 laps
     PC   Dobson/Lewis        PR1 Mathiasen FLM            14 laps
     GT   Jones/Moran         RSR Jaguar                     1 lap
     GT   Junqueira/Wilden    RSR Jaguar                    0 laps