| | |
| --- | --- |
| Nicky Hayden 'needs more time' to get to grips with the Ducati GP11.1 | |
| | |
| --- | --- |
| By Jamie O'Leary and Toby Moody | Thursday, September 1st 2011, 16:35 GMT |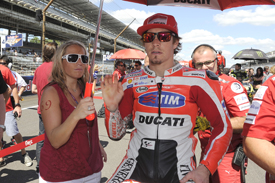 Nicky Hayden says he needs more time to get to grips with the Ducati GP11.1 and can start challenging for strong results at every race.
The American was given one of the machines, which is based on the new 2012 bike, to race at last weekend's Indianapolis Grand Prix - six races after Valentino Rossi gave it a debut appearance.
Despite suffering a disastrous race in front of his home crowd, where he was the only man to start on a softer compound front tyre – and was forced to make a late pitstop to change it – the 2006 world champion is confident that the bike is a big improvement on the GP11 he'd used previously.
"I need more time," said Hayden. "Last race was the first time I have been able to run with the factory Hondas and Yamahas all year – so that was positive. But until we do a good result...
"Also it's more to do with next year's bike anyway so that's always a good thing. [We're just aiming to] be closer and get more information."
Hayden, in spite of only finishing 14th last time out, declared himself happy with how his acclimatisation with the GP11.1 so far.
"You have got to look for something somehow positive," he added. "It was probably the best start I've had in a year and my first two laps weren't too bad. I felt quite strong and then [Marco] Simoncelli came past and cost me a bit of time. But I was able to come back and pass [Andrea] Dovizioso; my bike was fast. For a few laps there we were putting up a pretty good fight - better than running around in eighth.
"It was the first weekend with that new bike and that weekend probably wasn't the best way – going to a track that's so dirty on Friday, changing so much. Me and the team was sure what was the track and what was the bike. I had really only ridden it at Brno so that kind of didn't help us make progress."