Pastor Maldonado criticised Lewis Hamilton after the Briton crashed out at Spa
| | |
| --- | --- |
| By Simon Strang | Sunday, August 28th 2011, 15:55 GMT |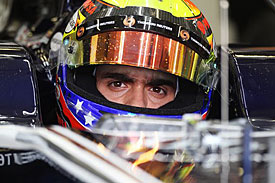 Pastor Maldonado has criticised Lewis Hamilton's driving after the McLaren driver crashed out of the Belgian Grand Prix while fighting for fourth position with Kamui Kobayashi's Sauber.
Hamilton had executed a pass on the Japanese when the pair made contact under braking for Les Combes at the top of the hill, as Hamilton moved back across to the left to take the racing line. This led to a large accident for the 2008 world champion.
Maldonado, who was punished by the stewards after crashing into Hamilton on the slow down lap during qualifying at Spa on Saturday, told the BBC that he believed the incident had similarities to his own experiences with the Briton.
Hamilton had robustly passed Maldonado at the end of Q2 in the dash to post a lap and it was moments later that the pair made contact in what appeared initially to be retaliatory action by the Venezualen on the run down to Eau Rouge. The stewards deemed it necessary to give Maldonado a five place grid penalty over the incident.
"I think maybe we both made a mistake yesterday, and I am a bit disappointed that only I got a penalty and not him," said Maldonado. "But anyway that's racing, we need to look forward. That's past. The only bad thing is that he did the same today, so I think he needs to be more focussed on his race and not to do that movement."
Asked if he meant that the two incidents had similarities he replied: "A bit similar yes.
"For sure I think we should have slowed down after Turn 1," Maldonado added. "But in the end I think we lost our concentration you know and we were fighting. It was a bad thing. That's racing, that's Formula 1, we need to look forward.
"I think Lewis is a really talented driver, a really good friend, so we need to be more focussed and respect each other more."
Maldonado became only the second Venezuelan to score a point in Formula 1, by finishing tenth in the race
"For sure it was a bit more difficult [starting from 21st place], and especially at the first corner it was so close to breaking my front wing, so I think I did a consistent and intelligent race," he said. "Even the strategy, the Williams guys did a very good job. It's the first time I've felt the car be really consistent during the race, so I am really happy for that. I think we are improving, we are getting stronger. I am happy for my country."