Q & A with Bruno Senna on his excellent performance for Renault at Spa
| | |
| --- | --- |
| By Jonathan Noble | Saturday, August 27th 2011, 16:12 GMT |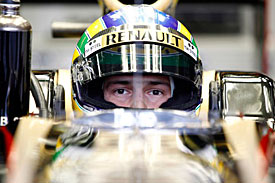 Bruno Senna confounded expectations in qualifying for the Belgian Grand Prix when the Brazilian not only made it into Q3, but outqualified his more experienced Renault team-mate Vitaly Petrov to line-up seventh on the grid.
Afterwards he spoke to the press about his remarkable performance and explained why he needed to keep in context and that it only really meant anything if he could build on it in the race and the next grand prix at Monza, in Italy. AUTOSPORT was there to hear what he had to say.
Q. Is this what you had hoped for when you woke up this morning?
Bruno Senna: A lot better, but I did not know what to expect to be honest. This morning after being P9 in the wet and it was straightforward conditions in terms of everybody going out and doing laps - I was confident that in the wet I could do a good job. When the conditions were changing for qualifying and the forecast was going maybe for dry I got a bit more nervous - because of course I hadn't... I knew that yesterday it was very, very difficult for me in the drier conditions.
But just getting to Q3 was a massive victory for me. I knew that I could push, especially on the last few laps because I had not much to lose to be honest in that situation. I didn't want to make a mistake, go off and crash, so in that sense I wasn't pushing 100 per cent. But I was pushing where I knew I could push and get away with outbraking myself a little bit. And I think where other people mistakes I didn't and the result is there.
Q. How much different is it going to be starting from seventh compared to what you endured all last season?
BS: I think it's really good memories from when I was always fighting for top five [in GP2] so tomorrow the race is going to be a different story. I'm not expecting to get in the car and go forward and get a podium, but I am looking forward to tomorrow's race because I am going to learn a lot. I have learned today and every lap I do in the car I am more comfortable in it and with the team.
In qualifying I had a KERS problem and I had to keep turning it on and off and the last thing you want on a qualifying lap is to be switching it on and off. Finally in the end the KERS was working and I didn't have too much of a problem but in Q1 and Q2 I had that. It shows that I am already quite comfortable with the procedures.
Q. How much are you missing in terms of full potential in the car?
BS: It's going to come better and better every race. I mean if you look at race starts, pitstops and everything I am not going for it because there is still doubts about what the car can do in those situations and also in terms of the maximum performance of the car. I don't know which direction exactly to take when I reach a limiting factor on the balance of the car. I don't know if I can do this or that so I am relying on the team massively. So far we have done some really good decisions and the balance of the car was very good in both situations but you cannot expect me to know everything on my first outing.
Q. Do you think you have proved a lot of people wrong that doubted or questioned you last season?
BS: It was obviously a good start but these were very tricky conditions and some drivers that are faster in dry conditions. I seemed to be very fast in these conditions fortunately, but there is still lots to prove. I want to be consistently good and if I can be that then I can make my career.
Q. How good is it that you qualified in front of your team-mate?
BS: It's great to outqualify your team-mate. Vitaly unfortunately made a little mistake so I would like to see more of a comparison against him tomorrow. For sure he has the upper hand on me tomorrow if the race is dry. But again I think in terms of expectation everything has been going really well and tomorrow there is another learning curve and I need to take it step by step.
Q. What did the team tell you to do in qualifying?
BS: They were very confident of our wet pace so they didn't really tell me anything. In Q3 I was the one who told them that I wasn't going to try too hard. And then they said 'okay'. They knew the situation was very tricky with the slick tyres on damp conditions so they put the expectations a bit lower and in the end it was really good.
Q. How much does this lift your self confidence about what you can do?
BS: I can't really complain about qualifying in the top ten on my first race in the middle of the season. But I know this track very well, it's a great track for me. There are other circuits that aren't as straightforward for me and I need to learn more but I know with the support of these guys we can go up.
Q. Is it fair to expect a points finish tomorrow?
BS: It would be a dream come true to finish in the points tomorrow.
Q. You have had two very complicated years since you graduated to Formula 1, you nearly got the Brawn drive in 2009... How much does that feel like a lost opportunity?
BS: If you look back and say if, if, if, then maybe you can say if many things. If you look much, much further back if Ayrton hadn't died I would have had a different career. So if won't take me anywhere, I have just got to get on with the job in front of me and fortunately with very little experience compared to the guys around me, I'm competitive.
Q. How hard has it been for you to deal with the build up and the suggestions that you are only here because of the money. How have you dealt with that?
BS: The only way to answer those things is to drive well. I think that I have done a good job today so it takes some of the question marks away. But every time I drive the car I have to continue doing that until I'm a professional Formula 1 driver.
Q. Eric [Boullier] said one of the reasons he brought you in was to shake up the team and bring some smiles back. Do you feel his decision has been justified?
BS: Eric was with me in GP2 and he knows that I can be competitive so he gave me a great vote of confidence when he put me in the car. First when he selected me as third driver this year and then when he put me in the car this weekend and the last one in Hungary and I hope that I can make him proud. Because these opportunities aren't showing up everywhere all the time so I am hanging on to it very much.
Q. Does it mean anything to be in a black and gold car with a yellow helmet and all that?
BS: It's very special especially if it's going well!
Q. Do you think you can keep the drive until the end of the season?
BS: I hope so. I think the chances are there, but I feel for myself like I need to justify the confidence the team has put in me, and this is a great start. Everybody is happy, but everybody is still cautious because tomorrow is a different day and it's easy to get into trouble. So I am going to try and have a good race tomorrow.
Q. How much do you feel you are driving for the Senna family name?
BS: It's hard to say. My mum is very happy and my grandparents are very happy, so I guess I make the Senna name proud.
Q. How have you stayed so cool under such circumstances?
BS: I'm not very cool.