Ryan Newman takes pole for the NASCAR Sprint Cup race at Bristol
| | |
| --- | --- |
| By Diego Mejia | Friday, August 26th 2011, 23:07 GMT |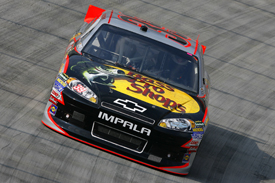 Ryan Newman claimed pole position for Saturday night's NASCAR Sprint Cup race at Bristol.
The Stewart Haas driver set the benchmark with a lap time of 15.624 seconds in his Chevrolet, beating the previous mark set by Hendrick Motorsports' Jeff Gordon.
Carl Edwards was last in the order for his run after topping both practice sessions earlier in the day, the Roush Fenway Ford driver coming closest to Newman on his way to the outside of the front row of the grid.
"It was a good lap but it didn't feel that fast, I will tell you that," said Newman, who won a sprint car race at Bristol just 48 hours ago.
"Momentum is a part of it but we're in a good position right now and we've just got to make the most of it. We've got a lot of things going our way. This is a track position race, starting up front and having a good pit selection, we'll just need to keep our nose clean tomorrow night."
Newman's pole is his second of the season in the Cup, the first coming last month at New Hampshire when he led an all Stewart Haas front row and went on to win.
This time though it was a bittersweet day for the team as Newman's team-mate Tony Stewart aborted his qualifying run and will start from the back of the grid.
Edwards' team-mate Matt Kenseth and Jeff Gordon will start from the second row while veteran Mark Martin - the most consistent driver on race pace in final practice - rounded out the top five ahead of Earnhardt Ganassi's Jamie McMurray and Richard Childress driver Paul Menard.
Penske's Brad Keselowski continued to carry momentum with eighth place on the grid in his Dodge as he continues to close on a Chase spot. He showed the best consistency of all in the first practice session of the day.
Joe Gibbs Racing's Joey Logano was the best of the Toyota's in ninth ahead of Keselowski's team-mate Kurt Busch.
Joe Nemechek was the fastest of the non-guaranteed drivers in 28th. Scott Speed was 36th on his Cup return with Whitney Motorsports while TJ Bell, JJ Yeley and Jeff Green - who spun on his qualifying run - failed to make the field.
Pos  Driver              Team/Car                     Time     Gap
 1.  Ryan Newman         Stewart Haas Chevrolet       15.624s
 2.  Carl Edwards        Roush Fenway Ford            15.642s  + 0.018s
 3.  Matt Kenseth        Roush Fenway Ford            15.643s  + 0.019s
 4.  Jeff Gordon         Hendrick Chevrolet           15.654s  + 0.030s
 5.  Mark Martin         Hendrick Chevrolet           15.658s  + 0.034s
 6.  Jamie McMurray      Earnhardt Ganassi Chevrolet  15.659s  + 0.035s
 7.  Paul Menard         Childress Chevrolet          15.676s  + 0.052s
 8.  Brad Keselowski     Penske Dodge                 15.683s  + 0.059s
 9.  Joey Logano         Gibbs Toyota                 15.688s  + 0.064s
10.  Kurt Busch          Penske Dodge                 15.699s  + 0.075s
11.  Marcos Ambrose      Petty Ford                   15.715s  + 0.091s
12.  Regan Smith         Furniture Row Chevrolet      15.721s  + 0.097s
13.  Jimmie Johnson      Hendrick Chevrolet           15.725s  + 0.101s
14.  Greg Biffle         Roush Fenway Ford            15.725s  + 0.101s
15.  Kevin Harvick       Childress Chevrolet          15.727s  + 0.103s
16.  Clint Bowyer        Childress Chevrolet          15.727s  + 0.103s
17.  David Gilliland     Front Row Ford               15.736s  + 0.112s
18.  AJ Allmendinger     Petty Ford                   15.738s  + 0.114s
19.  Juan Pablo Montoya  Earnhardt Ganassi Chevrolet  15.755s  + 0.131s
20.  Denny Hamlin        Gibbs Toyota                 15.760s  + 0.136s
21.  Jeff Burton         Childress Chevrolet          15.765s  + 0.141s
22.  Dale Earnhardt Jr   Hendrick Chevrolet           15.775s  + 0.151s
23.  Kyle Busch          Gibbs Toyota                 15.785s  + 0.161s
24.  David Ragan         Roush Fenway Ford            15.787s  + 0.163s
25.  Kasey Kahne         Red Bull Toyota              15.793s  + 0.169s
26.  Brian Vickers       Red Bull Toyota              15.820s  + 0.196s
27.  Martin Truex Jr     Waltrip Toyota               15.822s  + 0.198s
28.  Joe Nemechek        NEMCO Toyota                 15.835s  + 0.211s
29.  Casey Mears         Germain Toyota               15.839s  + 0.215s
30.  Bobby Labonte       JTG Daugherty Toyota         15.843s  + 0.219s
31.  David Stremme       Inception Chevrolet          15.875s  + 0.251s
32.  Michael McDowell    HP Toyota                    15.879s  + 0.255s
33.  Travis Kvapil       Front Row Ford               15.894s  + 0.270s
34.  David Reutimann     Waltrip Toyota               15.901s  + 0.277s
35.  Dave Blaney         Baldwin Chevrolet            15.930s  + 0.306s
36.  Scott Speed         Whitney Ford                 15.949s  + 0.325s
37.  David Starr         Leavine Ford                 15.970s  + 0.346s
38.  Andy Lally          TRG Chevrolet                16.012s  + 0.388s
39.  Robby Gordon        Gordon Dodge                 16.012s  + 0.388s
40.  Mike Bliss          Phoenix Chevrolet            16.049s  + 0.425s
41.  Terry Labonte       FAS Lane Ford                16.306s  + 0.682s
42.  Tony Stewart        Stewart Haas Chevrolet       16.485s  + 0.861s
43.  Landon Cassill      Germain Toyota               16.089s  + 0.465s

Did not qualify:

     TJ Bell             LTD Toyota                   16.103s  + 0.479s
     JJ Yeley            Front Row Ford               16.116s  + 0.492s
     Tony Raines         Front Row Ford               16.302s  + 0.678s