McLaren plans to take an aggressive approach to the rest of 2011
| | |
| --- | --- |
| By Simon Strang | Wednesday, August 24th 2011, 11:50 GMT |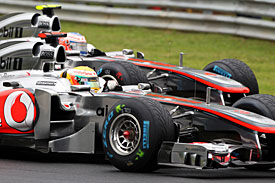 McLaren's approach to the second part of the 2012 Formula 1 season will remain uncompromising with its stated aim to keep on winning races while both Lewis Hamilton and Jenson Button will be free to keep an 'attacking' mentality and race each other for victory.
McLaren's managing director Jonathan Neale, speaking in the pre-Belgian Grand Prix Vodafone McLaren Mercedes phone-in, says the team has no plans to make its drivers work together strategically in an effort to close the large gap to Sebastian Vettel and Red Bull in the drivers' and constructors' tables.
Hamilton and Button, winners of the last two grands prix before the summer break, are 88 and 100 points respectively behind Vettel.
McLaren meanwhile, trails Red Bull by nearly three entire one-two finishes in the constructors' table - that's assuming that neither Vettel or Mark Webber finished the next three races.
Neale said that McLaren is in no position to 'play safe' and that the team's only option now is to fight for wins until the end of the season.
"We certainly haven't given our drivers any change of brief," he said. "We still intend to give both drivers equal opportunity in terms of all of the upgrades that we bring to the circuit and they should both attack at all opportunities.
"So we are not in a position where we want to play any kind of safe game here.
"The most important thing for us is to continue to win races and the only way we are able to do that when the competition is as tight as it is, is to keep our drivers focussed on taking every opportunity that they can and for us in the team to get behind them and say we will work on the reliability and give them confidence in the systems.
"But also that we give the drivers the confidence by bringing a series of upgrades to the car where they can materially feel a difference from race-to-race.
"There has been no change of mission for the drivers, and it is still very much two number one drivers, both are out to win races."
Though McLaren came into the summer break with two consecutive wins, Neale says he does not believe the team enjoys a dominant performance advantage, and to maintain its level of form over the next three races at Spa, Monza and Singapore represents a significant challenge.
"The next few races are going to be hard fought," he said. "I think that certainly Red Bull, Ferrari and McLaren all have cars that are capable of winning races and we have to keep our focus and our momentum as we go to the next two low-downforce races.
"As we look towards Singapore when we start to see more changes in the circuit characteristics, there is lots of work to do.
"I don't regard us as having the upper hand," he added. "We scored two well deserved victories, and I'd argue that we should have been able to convert Lewis and Jenson's positions in Hungary in to a one-two, so there was some disappointment there.
"I don't think we have a dominant or a comfortable position by any means and we are certainly not treating it as such. We are still pushing very hard on our development programmes."
Asked if any work has been done to sharpen up on strategy and to eradicate missed opportunities like those suffered by Hamilton in Hungary or Button at Silverstone, Neale replied: "When you are pushing that hard to try and close the gap you can see how easy it is to make a mistake, either in reliability or operationally - we are not the only team to have some issues around the pitstops.
"We've had some notable ones with Jenson – such as at the British GP – and they are always very painful. We are not able to work on pretty much anything during the shutdown period so we haven't been doing anything special over that two weeks but we are constantly trying to split the resource between making sure that quality of what we are doing is right and the pace of improvement is balanced.
"You are always on a knife-edge with performance. If you play it safe you make the car reliable, but you're not quick, when you're playing catch-up you have to take risks and occasionally you stretch the systems to the point where something breaks.
"We are working very hard on the car's hydraulics, on mechanical reliability, engine reliability – in particular around some of the exhaust programmes. These put a huge strain on the system. And then just a long system and very tight races with two drivers who are often on the same piece of track space and time – that also keeps life interesting. Under those kind of pressures you have to keep your head cool."