Parr says Williams not giving up on 2011 despite difficult season
| | |
| --- | --- |
| By Pablo Elizalde | Thursday, August 4th 2011, 10:42 GMT |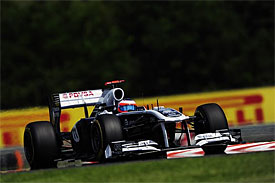 Williams is not giving up on the 2011 season despite its disappointing campaign so far, according to the team's chairman Adam Parr.
The Grove-based squad endured its worst start to a season this year, only scoring its first points in the sixth round of the championship in Monaco.
Williams has managed just four points in 11 races and it's in ninth place in the standings, 18 points behind Toro Rosso.
Despite the difficult year, Parr says no one in the team is giving up on 2011 yet.
"We are halfway through the season. We just have to do a better job," said Parr. "No one in this team has given up on this year, we will keep going until we do better. It's all one can say."
When asked if the team has started working on its 2012 car, he said: "Absolutely, I'm sure everyone has. But we are not giving up on this year. We will fight to the bitter end."
Parr insisted, however, that Williams is looking at the future with optimism thanks to the deal to use Renault engines and the new people coming in.
"There is a real sense of optimism about the future. Everybody in the team is thrilled to be back with Renault next year, very happy with the new people coming in. I think people needed to feel change. Everyone individually has been doing the best they can.
"It's not that people are disliked. On the contrary, I think everyone likes the people who have been leading the team in the recent past. But there's the sense that we are not getting the results and we needed a change, and people like what we are doing and where we are going."
Parr also said there were no regrets about the team's decision to debut on the Frankfurt stock exchange despite the poor on-track performance.
"The only thing I regret is that we came out this season with a performance we didn't anticipate and which is woefully unacceptable," he said.
"I didn't say we would win the world championship. I believed that we could make progress from where we were last year based on what I saw through the latter half of last year's season.
"I believe we were on a positive trajectory and that we could sustain that. And I was wrong, and we've taken steps to address that. We will deliver. I am confident in what we presented to investors and I am confident we will deliver.
"I'm disappointed in our share price, but it reflects where we are on the track and we have to get that right for a lot of reasons."